Peugeot to Unveil 308 GT Hatchback and 308 GT SW at Paris Motor Show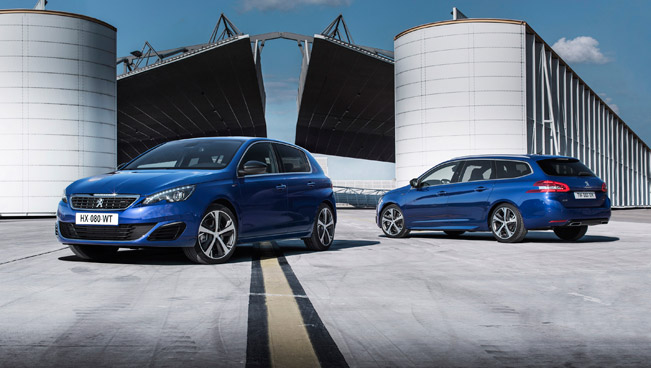 Peugeot 308 GT Hatchback and 308 GT SW is the dynamic new flagship of Peugeot. Both 308 GT models offer exquisite new styling, excellent performance and bespoke chassis with lowered ride height. The new 308 GT range will be officially revealed at the Paris Motor Show next month. The cars will be available to order in November, when the company will disclose the full specification and prices. The deliveries of the cars are expected to be start at the beginning of January next year.
308 GTs have unique styling characteristics. As one can see, the Lion emblem has moved from the bonnet's leading edge to the front grille, and in addition it features three horizontal blades on either side. The models have been fitted with headlights made up of 62 LEDs.
The cars run of 18-inch 'Diamant' wheels as a standard. They come fitted with Michelin Pilot Sport 3 tyres in the appropriate dimension. At the rear, the lacquered black diffuser and stylish twin exhaust pipes lend these Peugeots more distinctiveness. GT signature is integrated into the tailgate, and can be also seen on the front grille and wheel arches. The range of colours for these models has been extended via the addition of the Magnetic Blue shade.
Inside, there is more ambience, created by the roof lining and upper window pillars which have been finished in anthracite. Red stitching is what adds a performance air to the upholstery trim and it can be seen on the dashboard, door panels, gear lever gaiter and floor mats. Aluminium has been used for the pedals, while stainless steel sill finishers – for the door apertures.
Next, the rride height has been lowered by 7 mm at the front and 10 mm at the rear. The engine range comprises of one petrol and one diesel unit, which already meet the Euro 6 emissions standards.
Precisely, the four-cylinder 1.6-litre THP 205 Stop&Start petrol engine is coupled with a six-speed manual gearbox. It generates 285 Nm (210 lb-ft) of torque, available between 1,750 and 4,500rpm. The CO2 emissions and fuel consumption is rated at just of 130g/km and 50.4mpg.
The second powertrain is the four-cylinder 2.0-litre BlueHDi 180 diesel. It produces its maximum power of 180 hp (132 kW) at 3,750rpm and its maximum torque of 400 Nm (295 lb-ft) at 2,000rpm. The CO2 emissions here are of just 103g, equal to fuel consumption of 70.6 mpg.
This outstanding performance needs an effective braking system. Peugeot added one easy to modulate and with excellent thermal resistance, which was provided by a Bosch 9CE central unit. At the front, the 330 mm diameter and 30mm thick discs are gripped by floating calipers with 60 mm pistons. On the other side of the cars, the discs are 268 mm diameter on 308 GT and 290 mm on 308 GT SW.
In terms of technology features, 308 GT drivers will enjoy the Driver Sport Pack as a standard. This one comprises of amplified and sportier engine noise, instruments illuminated with red display, instrument panel that displays the power and torque delivered, turbo pressure, longitudinal and transverse acceleration, firmer and more responsive power steering and accelerator pedal mapping as well as EAT6 gearbox with steering wheel-mounted paddles.
There is also Driver Assistance Pack which includes three systems Dynamic Cruise Control, Emergency Collision Alert, Emergency Collision Braking and Park Assist.
Source: Peugeot