Pivo 3 Concept
Nissan will reveal the PIVO 3 EV Concept at the 42nd Tokyo Motor Show. More interesting is that, this is not just a show car – PIVO 3 is what Nissan envisions to be a more "realistic" EV of the near future.
"PIVO is one of the answers for active urbanists living in mature markets. Through the three PIVO proposals, we have gained a deep understanding of their needs in such large, metropolitan areas.", said Francois Bancon, Deputy Division General Manager of Product Strategy and Product Planning Division.
Each of the eight concepts that we have created address different needs, different communities, different lifestyles for different markets. That makes zero emission mobility an ambitious statement for the company… At Nissan, we believe that the world is changing and mobility has a role to play to make it better.", he added.
As part of Nissan's long-term commitment to lead the way in mass-marketed zero-emission mobility, PIVO 3 stands alongside the Nissan LEAF as a practical approach to sustainability for the real world. Nissan LEAF is a compact hatchback; PIVO is an ultra-compact city commuter targeting singles and couples living in and enjoying an urban lifestyle.
PIVO 3 is a remarkably compact package, measuring just under 3m in length and seating three in a 1+2 layout. The most remarkable about the car is a legal U-turn in a road only 4m wide. Considering that most public roads around the world are at least 4m in width, this means that a U-turn is almost always possible because of its 2m minimum turning radius.
Here, once again, Nissan demonstrates its commitment as a responsible corporate citizen to zero emission mobility with an inspired vision of the way we will live and drive in the near future.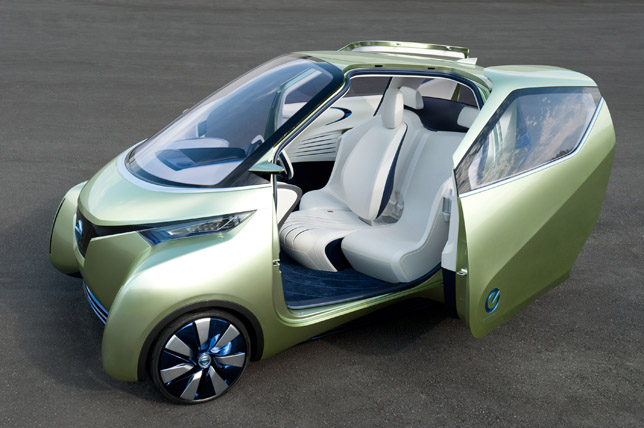 Source: Nissan