Porsche Exclusive Releases 911 Carrera S Cabriolet with Wooden Trim Interior

Porsche Exclusive has introduced a very special edition of the facelift version of the 911 Carrera S Cabriolet. The car that you see features characteristic styling and interior design that hasn't been used in other Porsches before. And it perfectly exemplifies the personalization options that the company is offering for the 911.
The Design
The Carrera S Cabriolet is dressed in Jet Black Metallic exterior color, which is contrasted by red brake calipers behind the 20-inch light gray multi-spoke alloys. But the real magic happens inside the car and it actually gives hints to some of the styling features that Porsche will include in its new model year vehicles.
SEE ALSO: Everything You Need to Know About the 2017 Porsche 718 Boxster and Boxster S 
The interior is adorned by elegant leather in Espresso color. Giving a luxurious feel is the wood trim, that has been used for the steering wheel, dashboard, door panels, center console and gearshift lever. This isn't the typical trim that one uses for a sporty car such as the 911, however it gives a perfect example of how versatile a 911 Carrera Cabrio might look.
In addition, the interior of this particular example comes with Porsche crest embossed on the central armrest. Other contrasts are provided by the metallic accents all around the cabin.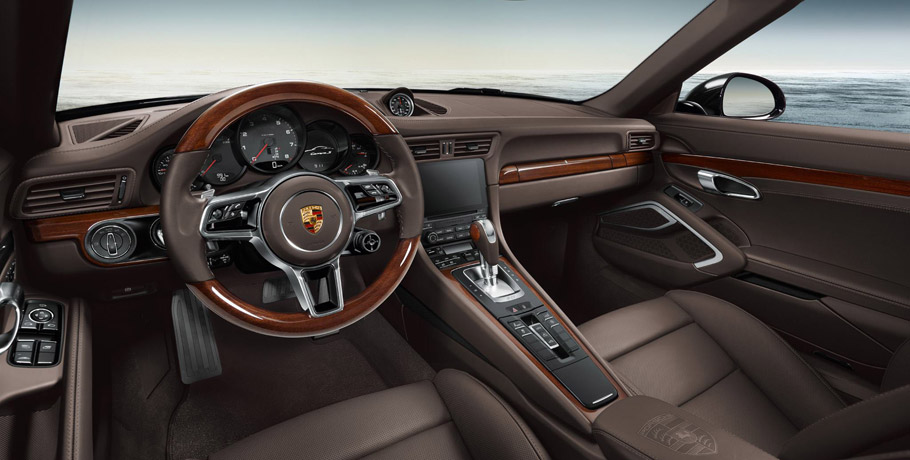 Carrera 911 Capabilities
There is nothing changed regarding the engine, so this means that this 911 Carrera S Cabriolet's 3.0 litre six-cylinder engine generates 420 hp (309 kW) and 499 Nm (368 lb-ft) of maximum torque. This force is transferred to the rear wheels and managed with the help of the standard seven-speed manual transmission.
As an option, Porsche offers seven-speed PDK, which has the advantage of better acceleration time (especially when equipped with the Sport Chrono pack). Precisely, the vehicle runs from 0 to 100 km/h in just 4.0 seconds on its way to a top speed of 187 mph (301 kph). Without the pack and with the standard transmission the time rises to 4.4 seconds.
Source: Porsche via Facebook