2014 Porsche Panamera E-Hybrid Revealed!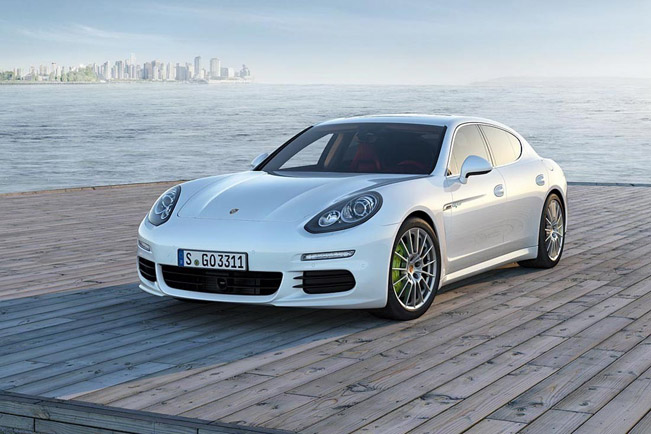 2014 Porsche Panamera S E-Hybrid is the first plug-in hybrid of the brand that has just been unveiled. The company is also introducing two new extended wheelbase variants - the Panamera 4S Executive and Panamera Turbo Executive. The models will have their global debut at Auto China in Shanghai on 21st of April.
The new S models hide under their hood entirely new 3.0-liter V6 engine with twin turbochargers. The technologies in these models have been improved and now the cars deliver enhanced performance and fuel efficiency. 2014 Panamera exudes tighter lines, more pronounced contours and newly shaped body elements.
First, the new Porsche Panamera S E-Hybrid is built on the concept offered by the previous generation. However, it comes with a more powerful electric motor and a higher-performance battery.
To go further into details, the electric drive produces 95 hp (70 kW) and the electricity is stored in a newly developed lithium-ion battery. The latter can be fully charged within circa two and a half hours when connected to a 240V power source. The car utilizes the eight-speed Tiptronic S automatic transmission.
Here the driving performance is also enhanced in contrast to the fuel consumption which is reduced. Electric-only driving is possible without any fuel consumption or local emissions, for instance. The electric driving range of the Panamera S E-Hybrid is estimated to be more than 20 miles. In addition, the hybrid can reach up to 84 mph in all-electric operation.
Moreover, the acceleration time for the sprint from 0 to 100 km/h is 5.2 seconds, while the Vmax here is 167 mph. Furthermore, the new model also features a wide range of convenience functions such as charge status indicator and the ability to control the vehicle's new auxiliary climate control option.
2014 Porsche Panamera S E-Hybrid will be available starting late in 2013.
Source: Porsche