Porsche Panamera Turbo S Executive Exclusive Series Redefines Luxury Experience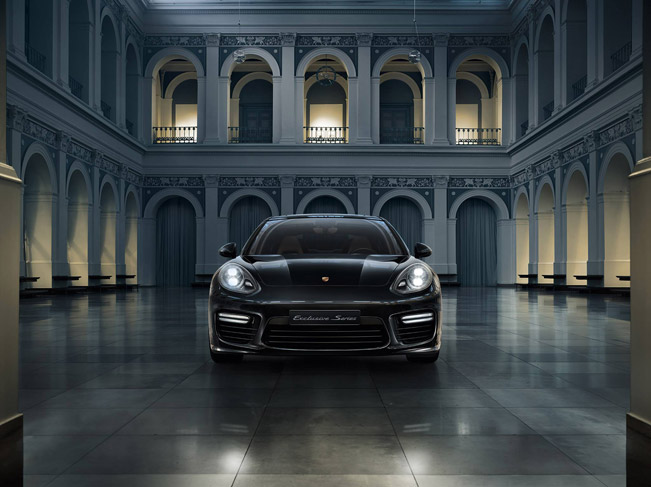 Porsche's uniquely luxury Panamera Exclusive Series has just been revealed ahead of its official release at the auto show in Los Angeles. Its exclusivity is further strengthened by the fact that it will be produced in only 100 examples. The car is based on the 570 hp all-wheel drive Panamera Turbo S Executive long wheelbase, but adds wide range of special features and equipment.
Another interesting fact is that for the first time in Porsche's history a two-tone paint finish has been offered for the Panamera. Precisely, a Jet Black metallic is combined with a Chestnut Brown metallic. Moreover, each one of the examples has been painted by hand, which further ensures a perfect harmonious progression of the two colors.
The same Jet Metallic paint has been also used for the 20-inch Sport Classic wheels on which the Porsche runs. Inside, the interior is as elegant as the outer shell. The seats and the lower door panels have been wrapped in chestnut brown leather, which was hand-picked and is exceptionally soft.
In addition, the upper door trim is in Black Milled Nappa leather. The accents inside have been highlighted via contrasting Chestnut Brown stitching. The decorative interior trim elements also feature a transition of dark walnut wood into a deep black piano lacquer surface from the front to the rear.
As a standard this exclusive model will get the Rear Seat Entertainment System Plus. It comprises of two high-resolution 10.1-inch touchscreens on the back of the front headrests with a built-in camera and integrated DVD player. The sound is played via wireless headphones or the Burmester high-end surround sound system.
People enjoying the ride in this Panamera Exclusive Series, can be sure if its uniqueness thanks to the interior plaque showing its individual limited edition number as well as the hand-made badges behind the front air intakes on the outside.
To make their journey unforgettable, the company has prepared a special gift: custom-tailored luggage set with two trolleys, two weekender bags and a beauty case. Porsche Panamera Exclusive Series is currently available for a starting price of $263,900 USD.
Source: Porsche