PUR Wheels on Nissan GT-R
Nissan GT-Rs have always been a favorite for ambitious tuners. What we see here can only support that theory. It's a collaboration project between two companies – The American based PUR Wheels company and the Indonesian Premier Autowerkz... apparently. The whole project is rather obscure and not much information is available.
On what we can focus however, are those 3 piece "4OUR Depth" PUR wheels they have fitted. Beautifully made 5 double spokes (that's one way of putting it). It's as if fragile twigs support the weight of the whole Nissan. The wheel arches are nicely filled in and the gold calipers certainly make a statement - "I like it a bit flashy". Indeed, if I were to drive around in a car that has such a conspicuous racing strip across the hood, roof and trunk, one must assume that that I like flashy things, no doubt.
Other than that we can see some fascia work being done at the front and back. Also these exhaust tips do not look very stock. We'll be on the lookout for more information about this. Otherwise we can play the guessing game all day long.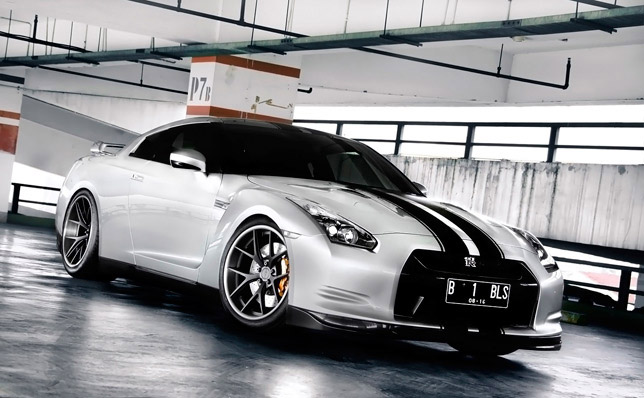 Source: SR Auto