Qoros 3 City SUV to Debut at Guangzhou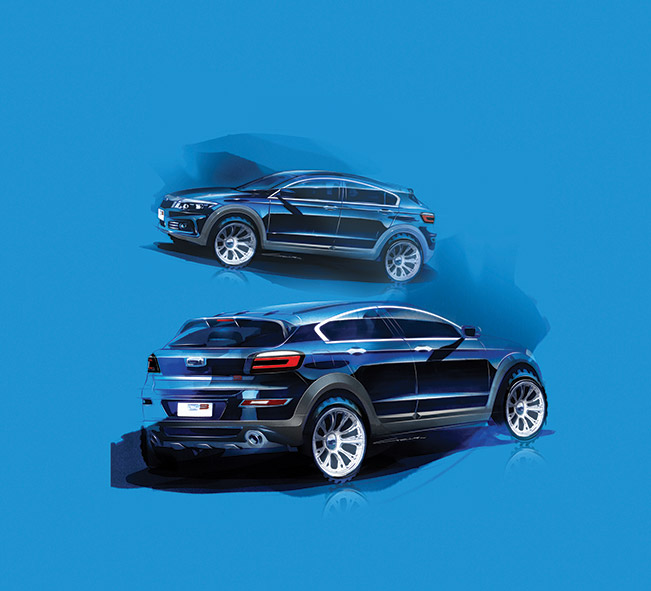 The newly-established international Chinese-Israeli automotive manufacturing company Qoros has unveiled the first design sketches of its third production model called the Qoros 3 City SUV. The vehicle will make its premiere at the 12th Guangzhou International Automobile Exhibition on 20th November 2014.
Qoros 3 City SUV carries a sense of a bigger premium metropolitan lifestyle. With its compactness it is as good for cruising around the city as for country-driving. The modern design of Qoros 3 along with its versatility are depicted by its excellent ground clearance, large wheels, and a more commanding driving position. The car is spacious enough with raised driving position and offers more safety, quality and control for a memorable experience on the road.
Moreover, the City SUV will be equipped with the brand's innovative and award-winning QorosQloud™ connected services platform. This model will be another addition to the 3 Sedan and 3 Hatch in Qoros' automobile family.
Interestingly enough, Qoros scans astonishing results after the debut of its first model Qoros 3 Sedan, which appeared for the first time at the Geneva Motor Show in March 2013. The car was praised with the maximum five-star rating in the Euro NCAP crash tests. It went on to gain the title of 'the best performer of any car subjected to Euro NCAP's crash tests in 2013' by Euro NCAP.
The second production model, the Qoros 3 Hatch, debuted at the Geneva Motor Show in March 2014. It won an Honourable Mention in the prestigious Red Dot Awards in recognition of the quality of its design, and also scooped several more awards at the Beijing Motor Show in April 2014.
As it seems, for a new automobile manufacturer Qoros is doing pretty well.
Source: Qoros Auto