Qoros 3 Sedan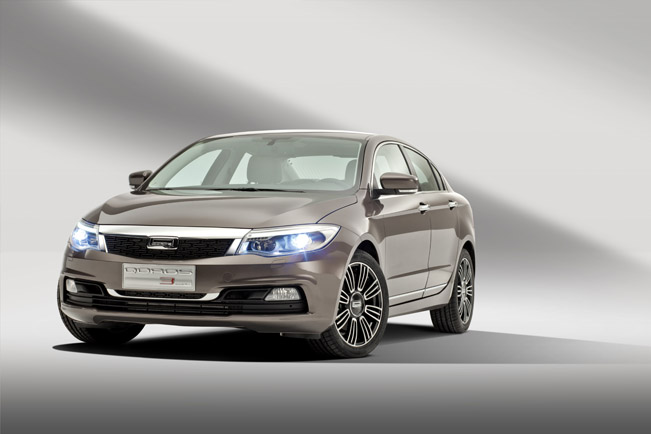 Qoros will present its first series production vehicle, an elegant compact (C-segment) car with the official international model designation, the Qoros 3 Sedan. The official premiere will be at the 2013 Geneva Motor Show in March.
The Qoros 3 Sedan, which is entering a pre-production development phase after two summers and two winters of extensive testing at key locations around the world, is due to be launched in China in the second half of 2013, with first European sales following later in the year.  The launch of further Qoros models is then planned at intervals of approximately 6 months.
Qoros' elegant sedan for the compact segment introduces a distinctive brand identity which will be applied across all future models.  The Qoros 3 Sedan has an elegant profile thanks to its long wheelbase, short overhangs, a coupé-like silhouette and a roof line which flows smoothly into the strong rear quarters.  At 4,615 mm long and 1,839 mm wide, the sedan is relatively large for the compact segment, and endows it with a powerful overall appearance and unusually generous interior space.
The engine range includes two efficient four-cylinder 1.6-litre gasoline engines. Both of which feature VVT (variable valve timing).  The naturally-aspirated unit delivers an output of 126HP (93 kW) and 155Nm (115 lb-ft) of torque.  The turbocharged version offers 156HP (115 kW) and 210 Nm (156 lb-ft). Both engines are combined with a 6-speed manual transmission as standard, with an optional 6-speed dual clutch transmission available for both.  A stop-start system will be available from launch.
With the support of AVL, Qoros is also developing a three-cylinder 1.2-litre turbocharged engine and an all-new four-cylinder 1.6-litre turbocharged engine, both with GDI (gasoline direct injection).
The advanced 8-inch touchscreen infotainment system is a standard feature of all Qoros 3 Sedan model variants.
Source: Qoros