Range Rover Evoque Convertible Concept
Get ready for something new. Although the markets today are flooded with all kinds of SUV's, Land Rover are going to introduce one that will fascinate the world. Welcome to the Land Rover Evoque Convertible Concept. A world debut is set for the 82nd Geneva Motor Show in no more than two weeks time.
The Convertible Concept is actually a standard Evoque Coupe that has sped through a really, really low bridge and the hard top was scraped clean off the car. Well, it is actually more complicated than that, but it will have the Evoque's engine lineup – a 2.2-liter diesel with 150bhp or 190bhp, and a 240bhp 2.0-liter petrol unit. That may come as a disappointment for some as it is common knowledge that making a convertible takes some extra weight and strengthening. The soft-top retracting mechanism is neatly snug below the belt-line and the distinctive shape of the original has been preserved to near perfection.
Inside, one still gets a hefty amount of Evoquishness - Terrain Response, surround cameras, Park Assist, an 8-inch dual view touch screen and a Meridian sound system. Predominant colors in the passenger area are Lunar and Ivory while outside, the body work is Causeway Grey metallic, complemented by 21-inch wheels that have a Titan silver finish.
The Evoque Convertible Concept really does look like a bathtub with a windshield but in a sort of a cool way. We really like the uncanny feel that this car radiates and we hope other people like it too. Production is still questionable and most likely the Geneva Show will play a decisive role in the concept's future. Should the reception turn out positive we might see it in a couple of years on the streets.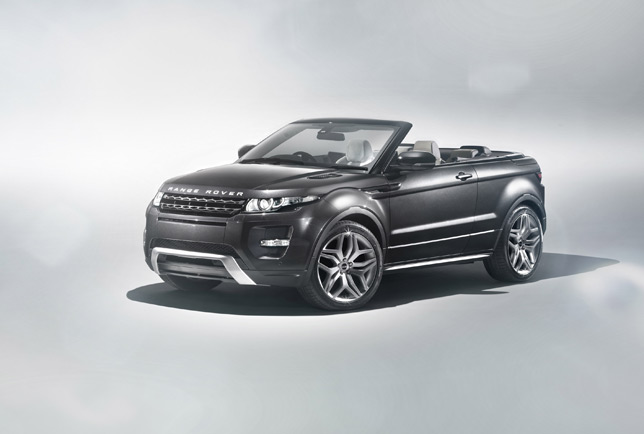 Source: Land Rover