Scion Tuner Challenge Cars Revealed Ahead Of Official Debut [VIDEO]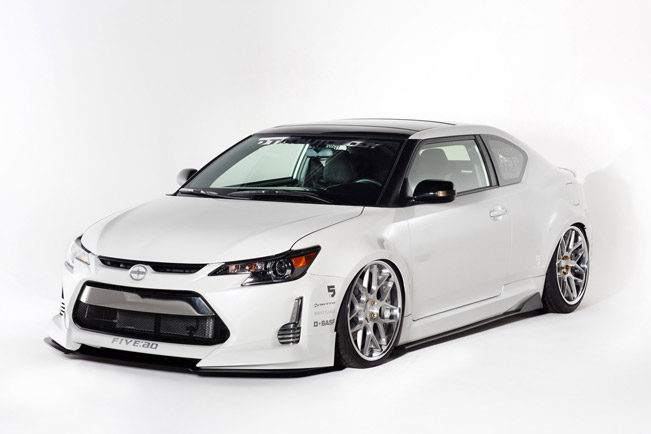 The three vehicles from the Scion Tuner Challenge were revealed ahead of their SEMA Show debut in Las Vegas. The vehicles are created by custom car builders and represent the tuner scenes in the East, the Pacific Northwest and Southern California. At the beginning of the competition, Scion gave each builder a stock 2014 tC plus $15,000 to design and modify the car within 90 days.
Josh Croll converted his tC to a first in the world right-hand drive model. The car has a flashy hot rod orange color, European clean lines and shape, and wide wheels for a proper stance. The second Scion is tuned by Walter Franco of Seattle who worked with DTM Autobody.
Together they have created a sophisticated VIP look for the car. The designer brought in a luxury feel through a combination suede and leader interior with diamond stitching and pearl white exterior paint. In addition, he envisioned a powerful audio experience and performance enhancements, including a shot of nitrous for added power.
The third designer, lucky to work on Scion tC is Young Tea of Alhambra, California, who is the co-founder of the Scion FR-S community FRS86. He made a garage-built car and has kept the design cues of the tC while extending the fenders, adding a custom dual-outlet exhaust rear diffuser and including an air suspension system to lower the car for shows.
Scion will announce the winner on 6th of November during the SEMA Show. The victor of the competition will take home a $10,000 grand prize. You can watch below the action of the tC Tuner Challenge finalists finishing their builds:
Video Source: YouTube
Source: Scion