SpeedART SP81-R Porsche Boxster
More updates from rather silent tuners. This one is from SpeedART – the SP81-R based on the Porsche Boxster/S type 981. It incorporates the full package: a body kit, some power increase, noise, wheels and a few suspension tweaks.
The SP81-R body kit comprises of a rear wing plus diffusor, side skirts and a front splitter. The wing attaches itself on the stock spoiler yet one can notice it from afar. The overall body color is one traditional for SpeedART – dual-themed paint first seen on the PS9-Panamera and S91-R Carrera projects. As for shoe ware, the SP81-R Porsches can come with SpeedART modular 20 and 21-inch LSC-Forged wheels – ultra-ultra light, unique and stylish.
Under the hood, both for the Boxster and Boxster S, there will be an ECU chip that will increase the power with around 20 hp and just as much Nm of torque. Not without the help of a sport exhaust system complete with high-performance catalysts and manifolds of course. That said, one also does get a sound switch just for showing off. Also, a range of tailpipes will be available for you to choose from – individuality at its best. A full set of a Titanium-made exhaust system will act as an alternative for the most enthusiastic among you.
The SP81-R Boxsters sit lower on their sport tuned suspensions, height adjustable absorbers and stiff coils. Still, an airlift suspension is also provided in other to tackle even the beefiest of speed humps.
Inside we are promised a completely new interior that makes use of Alcantra and leather. Better yet, SpeedART won't deny that it will be much different from the interior seen in the most recent 911 at the Geneva Motorshow.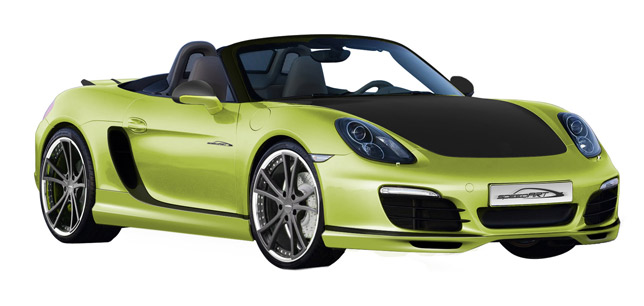 Source: SpeedART