Steven Tyler and the First 1244 HP Hennessey Venom GT Spyder
If you happen to know a thing or two about rock music then Aerosmith vocalist Steven Tyler is no stranger to you. If you are also familiar with the car industry, Hennessey Performance should ring a bell as well. Where do these two notions come together? In a Venom GT Spyder of course. The rocker is actually responsible for the creation of this monstrous roadster and he recently had the pleasure to be the first man on the planet to get one.
Back in 2011, Tyler walked in the Hennessey HQ in Texas and asked if he could have one of those Venom GT's but with an open top. The tuners considered it, did some structural changes to the rollcage (yes, it needs one) and there you have it – a Spyder. The weight however, went up by around 30 lbs and while that doesn't sound much, it messed with the power to weight ratio which was originally 1hp for every 1kg. To even things out again, the guys at Hennessey did the most logical thing – more power.
The Venom GT Spyder now develops a healthy batch 1244 bhp. It's the 7.0-liter twin turbo V8 engine that is actually responsible for it. Those figures supposedly make the Venom Spyder one of the fastest roadsters in the world. The 0 to 200 mph run takes less than 16 seconds, we are told, which puts the Bugatti Veyron Vitesse with the silver medalists.
There will be only five 2013 Venom GTs produced and three of them have already been sold. In other words, besides Steven Tyler, two other people had $1.1 million dollars to spare. That's a lot of money for a car that's based on the Lotus Exige. We say that, but actually, most of the original car was left out. Fingers crossed, they kept the suspension for this one.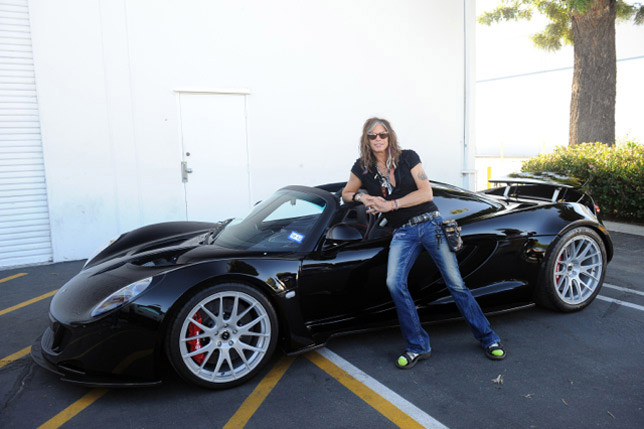 Source: Hennessey Performance