Did Subaru Impreza Sedan Concept Impress Us Really?

Subaru has finally let the cat out of the bag. If you have followed us regularly, then you know that we have been expecting company's Impreza Sedan Concept. The debut of the car happened at the Los Angeles Auto Show. We have told you already that the concept vehicle will express Subaru's new way of envisioning the design of its vehicles. This means that it will implement the design language called Dynamic x Solid. In general, it is characterized by sportier forms, less angular proportions and powerful stance. But are we happy with it?
The Details
Let's see in details what we have here. The body size of the car, overall length × width × height, is 179.3" × 70" × 57.2". It is built over a wheelbase of 105.1", meaning that the car has to ride on appropriate tires. Hence, Subaru did not doubt for a minute but added the huge 235/40 R19 rubbers, which play significant role in Subaru's Symmetrical All-Wheel Drive. These inviting proportions are perfect for the comfortable ride of 5 persons.
SEE ALSO: Subaru Impreza Sedan Concept Makes World Debut at Los Angeles Auto Show
The Impreza sedan concept definitely looks aerodynamically enhanced. This is because of the combination of functionality and styling. In addition, the character lines further enhance the dynamics of the compact sedan. As a show vehicle, the car is painted in the eye-catching Ruby Red Metallic color with glossy black accents, but this isn't accidental. It represents a sporty and energetic impression that ha car wants to imprint on future buyers.
Front, Sides & Rear Design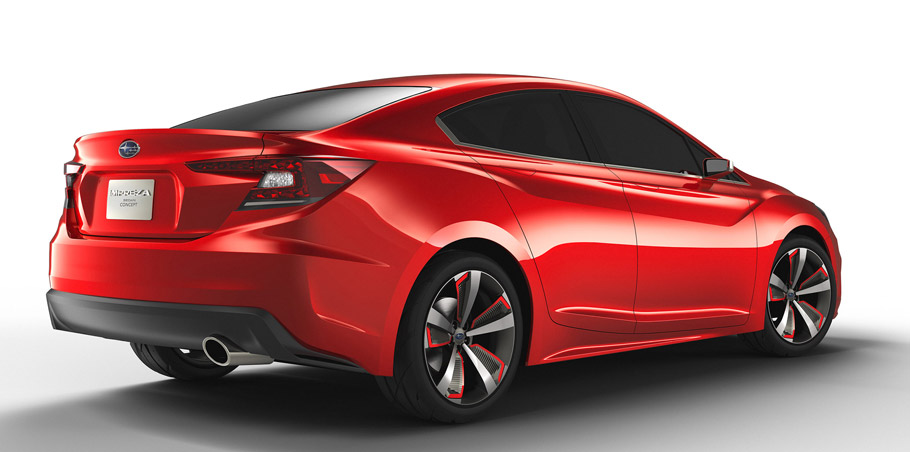 The front of the car features the characteristic for Subaru hexagonal grille, menacing hawk-eye headlights and aircraft inspired wing. At the sides we see flared fenders with sharp character line running through the whole length of the car. There is also another upswept character line along the lower door panels.
The design of the back of the Impreza Sedan continues the sharp lines via the rear tail lamps, which have wide and low illumination (just like those at the front). The trunk is sleek, thus adding to the sporty impression on the sedan. So we definitely find the rear of the concept very interesting.
But is a production vehicle like this necessary, since its design looks far away from the characteristic for the brand language? Maybe many won't be happy with it, but it is a mater of time to see whether the Dynamic x Solid design language will prosper. When a production version of the Impreza Sedan Concept will appear, it is not known so far.
Source: Subaru