Toyota GT86 sets Guiness World Drift Record – 144.1 km [video]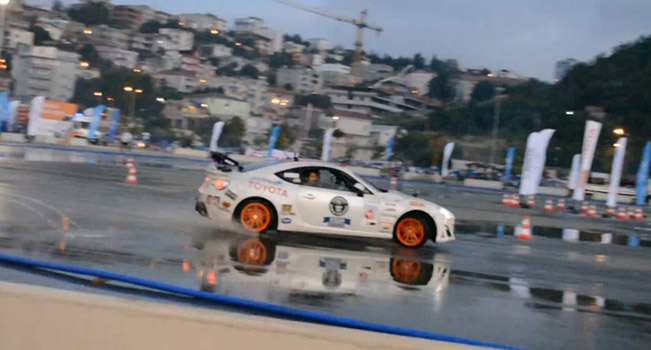 Harald Müller managed to set a new Guinness World Record for longest vehicle drift in a Toyota GT 86. The previous holder was Johan Schwartz - BMW Performance Center Instructor, who managed to drift the new M5 F10 for 82.520 km (51.278 miles). Harald Müller has achieved whopping 144.126 km (89.55 miles).
The record attempt was made in Samsun, Turkey on July 15th at an event organized by local board of Youth and Sports. The course measured 235.5 meters, where Müller did 612 laps in 2 hours, 25 minutes and 18 seconds with a 2012 Toyota GT 86.
The lightweight RWD car is powered 2.0 liter boxer engine delivering 200HP (147 kW) and 205Nm (152 lb-ft) of torque. It also features a rear spoiler, 17" light alloy wheels, chrome-finished dual exhaust tailpipes and a signature "T"-mesh grille. That T motif is repeated in the shape of the rear fog light, set centrally between the tailpipes.
At the video below you can see, that the GT 86 didn't go all the time with a proper drift (sideways). Instead, the vehicle was going straight several times and stopped for a turn. We believe that the record should be a continuous drift without any stops or huge corrections. Still, Guinness admits the record, so it is official.
Enjoy!
Source: Toyota