2013 Toyota Le Mans Hybrid Challenger Revealed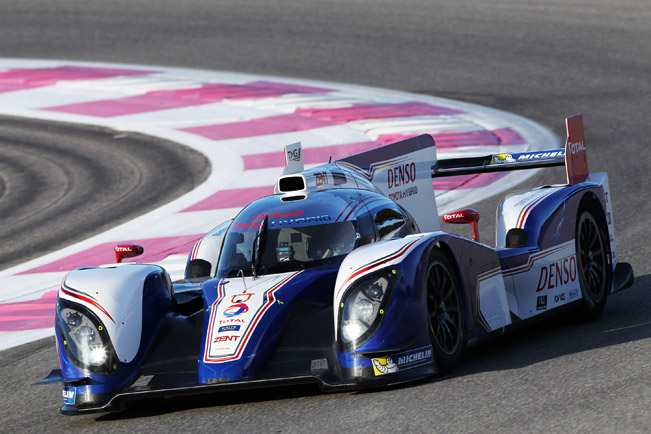 Toyota Racing has just revealed the revised TS030 Hybrid which carries the name 2013 Toyota Le Mans Hybrid Challenger. The latter will participate in the Le Mans 24 Hours and the FIA World Endurance Championship (WEC) this Motor-sport season.
The racing team has begun the first full test of the new 2013 TS030 Hybrid at Paul Ricard in southern France. Last year, the team achieved great success which includes three victories in just six races. The same hopes are expected for the new season and there is the ambition to win both the Le Mans 24 Hours and the WEC title.
Toyota Racing team will again use Toyota Hybrid System – to be more precise the Racing powertrain, which was created especially by company's motorsport division in Higashifuji. To go even further into details, the unique super capacitor-based hybrid system generates 300 hp (224kW) of boost automatically, on top of the 530hp (395kW) generated by a 3.4-litre normally aspirated V8 petrol unit.
In addition, it was revealed that Toyota's motorsport division has fine-tuned the new powertrain in order to improve power, efficiency, management of component usage and reliability. Furthermore, the race-winning TS030 Hybrid chassis has also been updated, thus delivering enhanced performance.
2013 Toyota Le Mans Hybrid Challenger includes also a revised aerodynamic package. In it is featured an updated monocoque, which will offer better performance and at the same time will reduce the weight of the car by circa 15 kg.
The complete WEC schedule is the following:
Silverstone, UK (14 April)
Spa-Francorchamps, Belgium (4 May)
Le Mans, France (22 June)
Sao Paulo, Brazil (1 September)
Austin, US (22 September)
Fuji, Japan (20 October)
Shanghai, China (10 November)
Bahrain (30 November)
Source: Toyota