Truck Development and Test Center at Mercedes-Benz Plant in Worth opened
Today was the formal opening of a new Development and Test Center (EVZ) for trucks at the Mercedes-Benz plant in Wörth. In attendance at the ceremony were Rhineland-Palatinate Premier Kurt Beck, Mayor of the City of Wörth Harald Seiter, as well as Daimler representatives Andreas Renschler, member of the Board of Management responsible for Daimler Trucks; Dr. Jörg Zürn, Head of Product Development at Mercedes-Benz Trucks; and Martin Daum, Director of the Mercedes-Benz Wörth Plant. All in all, the project has only taken three years from planning to completion, with the first section having been put into service in spring of 2007, and the second construction phase now concluded. The new facility has been built at a total capital investment of €80 million, with €35 million of that sum devoted to the second construction phase, for the test track, buildings, and infrastructure.
Speaking at the opening ceremony, Renschler underlined the importance of the EVZ in integrating development and production: "The keyword at Daimler Trucks is networking. That applies not only to our different products and brands but also to the integration of development and production." As Renschler explained, the EVZ is a high-precision measuring instrument located right next to the production facilities: "Development and production need to work hand in hand from the word go. That's the only way we can ensure our customers end up with a product that truly deserves to wear the Mercedes star."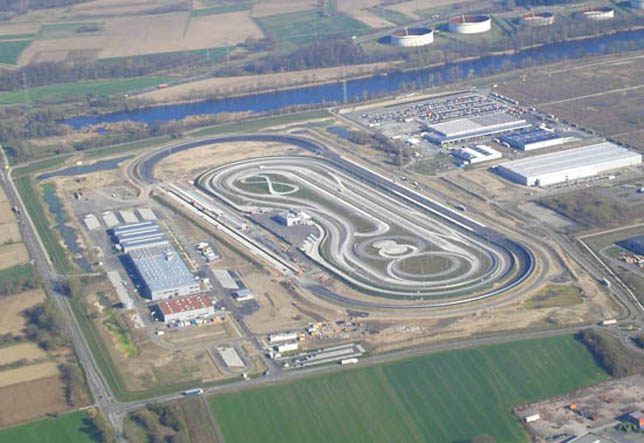 The EVZ comprises three elements: the area inside features a whole variety of rough-road tracks with 14 different types of road surface; the test track outside is banked to an angle of up to 49 percent or 26°, and is used to test proper functioning of various vehicles systems such as brakes; and the third part of the EVZ comprises workshop and office buildings. A total of around 300 employees work at the new facility.
Extensive ecological compensatory measures have also been carried out at the 550,000-square-meter site. For example, 152,000 square meters have been landscaped as lawn and grassed areas, and 17,000 bushes and trees have been planted. The 2,000-meter test track, which is now in service, is built of concrete sections with a combined volume of 6,000 cubic meters. The buildings comprise 1,900 and 6,300 square meters of office and workshop space, respectively.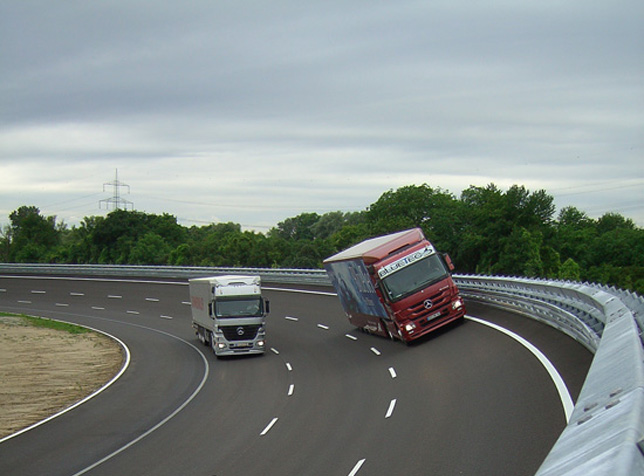 "Reliability is the hallmark of Mercedes-Benz Trucks. And to guarantee that, the EVZ is going to take our development and testing procedures to a whole new level," said Dr. Jörg Zürn, Head of Product Development at Mercedes-Benz Trucks. By recreating different types of road surface at the EVZ, Mercedes-Benz Trucks can be sure of meeting the demanding requirements of its customers worldwide: "In a very abstract sense, our test vehicles are subjected to the road conditions of South Korea, Africa, and Europe right here in Rhineland-Palatinate," explained Jörg Zürn.
The region where Rhineland-Palatinate, Baden-Württemberg, and Alsace meet has developed into a "Commercial Vehicle Cluster" of central importance to the European commercial vehicle industry as a whole. As Rhineland-Palatinate Premier Kurt Beck explained at the opening ceremony: "We're delighted that Mercedes-Benz has further invested in Wörth and thus helped secure the future of this region. With the Wörth plant, the newly opened Development and Test Center, and the Commercial Vehicle Cluster, this region boasts a concentration of expertise in this sector that is unique in Germany."