2012 Tuningwerk BMW 1st M RS offers uncompromising 521 horsepower
2012 Tuningwerk BMW 1st M RS is an exceptional car, modified by the German-based company Tuningwerk.
What is specific about those tuners is that they specialize in BMW models. Situated in geographical grounds near to the area of Munich where the BMW head office is situated, they are keen on working on enhancing models of the famous brand.
Their latest project comes as an acknowledgement of the 1st BMW M-Version, and for this reason they have named the "1st M RS".
What the tuning company has basically done on this machine is to entirely modify its engine. In particular, here the transmission of the back axis was shortened up to 3.25 transmission ratios, optionally 3.45 are also possible.
In addition, as a differential locking it includes a suitable for the power to weight ratio Drexler lock.
Furthermore, the cooling system was completely transformed as well. Now it includes the second oil cooler. What is more, the model features a titanic exhaust system. The engine clutch has unconditionally optimized stability, which makes it the perfectly suited for the city traffic.
Of course, a racing clutch is also an option. However, if one has the desire to race, then there is a demand for further small modifications for the FIA admission. For instance, one is the expansion of the case.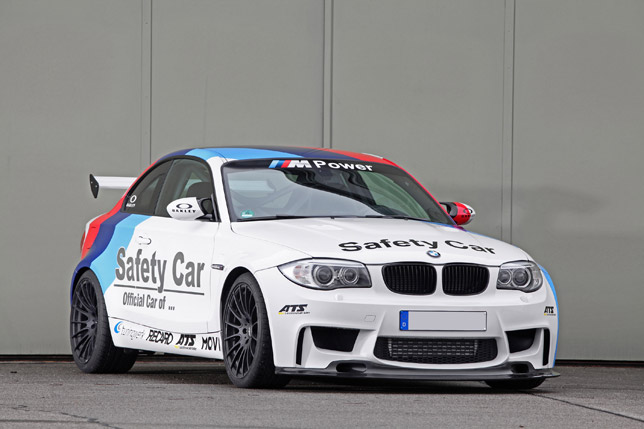 The additional weight reduction is still an option, while at the same time the door trims and insulation material are in the original state.
In this version are also included features made from carbon fiber, such as: GT4 front lip, engine hood, boot lid and also rear spoiler and Recaro seats called PolePosition. It is also possible to install doors out of the same material and plastic side glass. The 3-x club sport lorry running gear allow to be combined with H&R lightweight stabilizers upon request.
Furthermore, Tuningwerk BMW 1st M RS rides on forged ATS superlight 9x19 inches rims on the front and 10x19 inches rims – on the back. But this is not all, the vehicle is equipped with 245/35R19 Dunlop blow-up "Sport Maxx" tyres on the front axis and 285/30R19 ones – on the rear axis. As an alternative option, there are also FlowForming Crosslight ATS rims of the same size.
The braking system of the car consists of 370 mm discs made by Mov'it, which deliver perfect braking.
And given all this information it is naturally to conclude that this interesting mixture of tuning means makes the driving dynamics of outstanding quality.
At last, but not least, the six three-liter cylinders with 521 hp (388 kW) enable 614 Nm (455 lb-ft) maximal torque from 2,800 rpm. Therefore it is very easy for the car to achieve a maximum speed of 300 km/h.
Source: Tuningwerk