Tuningwerk Refines BMW M235i RS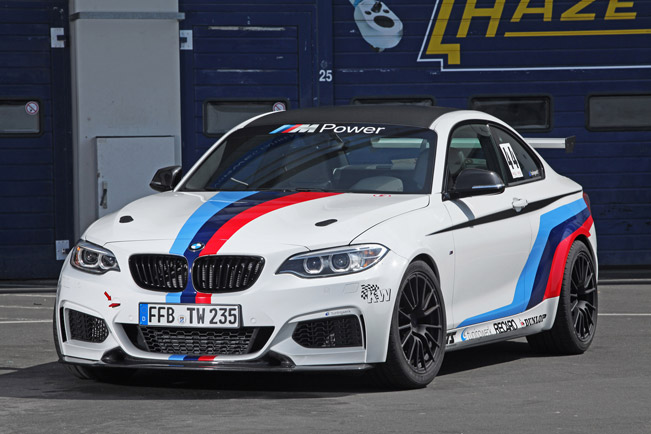 BMW 2 Seires have been on the market for just several months. This fact howver didn't stop the tuners at Tuningwerk to get inspired by it and do their magic. The exclusive 2-doored compact M-series coupe, now has an enlarging in TW design with front lip, rear diffusor and rear spoiler, all made of carbon. Besides main and oil cooler, there is an additional cooling agent cooler and a 850 W fan. As an option, the customizers offer heat exchanger.
Moreover, there is a single mass flywheel with sports clutch, amid pipe eliminating the bottle neck on the flexible element and a stainless steel axle back exhaust with valve command and tail pipes. The latter also produces strong and deep sound.
The braking system is also new. It features adapted Brembo components, precisely 350x34 racing steel discs and 6 piston brake calipers on the front axle. Steel flex pipes and an optimized DSC/ABS controller setup stop the braking.
Of course, an appropriate wheel/tyre combination was also given to this BMW. Tuningwerk forged steel rims in 8,5x18" were fitted with Dunlop SportMaxx RT in size 235/40R18 at the front, while at the rear they are 9x18" and with 265/35R18, respectively
Under the PolePosition Recaro seats were mounted seat slide rails. As an option there is a rollover cage and 6 point seat belts. Besides the modified aluminum oil pan, the Uniball axle elements are also to be mentioned. The 6 cylinders engine with 2.979 l of engine size, TwinScroll Turbo and manual gear shift produces 444 horsepower (326 kW) with 600 Nm of torque. The result is stunning acceleration from 0 to 100 km/h for only 4.3 seconds.
For the hard racing use the tuning company has added additional car body stiffening and struts. Sparking plugs with higher heat value and the modified airflow reliably serve their purpose. Tuningwerk BMW M235i RS has an empty weight of 1.490 kg with full tank.
Source: Miranda Media