Volkswagen Amarok Power Concept Debuts At Woerthersee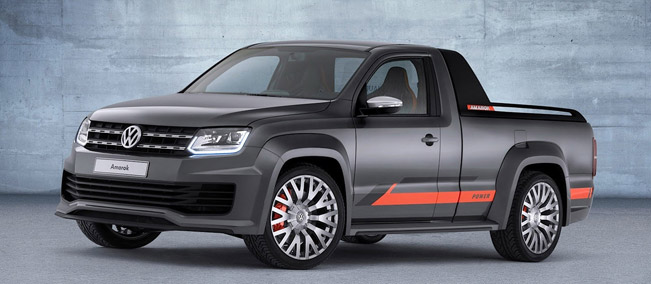 Volkswagen Amarok Power Concept is a car that will be unveiled at the Wörthersee festival in Austria. The pick-up has some superpowers, because of the special equipment it includes. Precisely it is loaded with the 5000-watt sound system, comprising of Pioneer CDJ900NXS player, two Void Acoustics Impulse 3t speakers, a Stasys Xair subwoofer and six micro speakers, as well as DJ equipment by Allen & Heath.
This Volkswagen concept is driven by the 3.0-liter V6 TDI engine. The unit, coupled with an 8-speed automatic transmission, generates 272 hp (200 kW) and 600 Nm (442 lb-ft) of maximum torque. The acceleration time from 0 to 100 km/h (62 mph) is under 8 seconds, while the top speed is 210 km/h (130 mph).
Furthermore, the Amarok Power concept has lowered by 80 mm suspension. It runs on huge 22-inch alloy wheels fitted with 295/35 tires. The truck is covered with grey foil. There are also orange accents all over it. Bi-xenon headlights with chrome inserts and chrome-plated twin tailpipes contribute for its playful exterior appearance.
Inside, the vehicle is wrapped in "power orange" nappa leather and black Alcantara. These materials cover the steering wheel, bucket seats and door panels. There are also a lot of carbon fiber inserts. Amarok silhouette can be seen lasered on the headrests.
Source: Volkswagen