Volkswagen at the AMI 2012 in Leipzig
Volkswagen are having a really mouth-watering lineup for the 2012 Auto Mobil International in Leipzig. We see some very recent faces such as the Volkswagen CC R-Line, the Beetle Fender and the Polo. The Volkswagen Scirocco however, takes the prize as probably the most exciting one out there. It's a GTS version which is said to carry the essence of the 70s and 80s back when the Scirocco models was first born.
It's a world premiere for this GTS version – a black and red stripe splitting the car in two equal halves, shouty red callipers, flaring side sills, new front and rear bumpers and a diffuser, a rear wing, color-coordinated wing mirrors and 18-inch "Thunder" alloy wheels with some black on them. The Scirocco even has the engine to match the looks – no less than 210 hp coming from a TSI 2.0 liter engine. The only thing above it in terms of performance is the 260 hp R version but we can get over that. Especially when we find that the gear stick in the GTS has a history value embedded or more like engraved – it's the old "golf ball" design that used to be a trademark feature of first generation GTIs and '82 Scirocco GTSs
Then there are the others – a mile-crunching, sporty looking, Volkswagen CC four-door R-Line that can invigorate even some of the most family people on the planet. As for the rebellious kids, a VW Beetle sounds right, right? Even more so when the music instrument making company Fender has a say when it comes to design. 400 watts of "concert-type" sounding. Finally, something for the bachelor – a CrossPolo "Urban White" - a car, we've been told, that it's not simply white but more like "Oryx White Mother of Pearl" white... not something to brag about. But the 17-inch alloy wheels and the tinted rear windows do add a little character. Inside, a black mingle of Alcantra contrasts the body work and complements the wing mirrors and roof rails. To stress out that the Polo Urban White is for young people, Volkswagen have fitted sports seats so no fragile spines please. For the 70 bhp, the average student will have to pay $23,703 or in other words, 40 years of debt.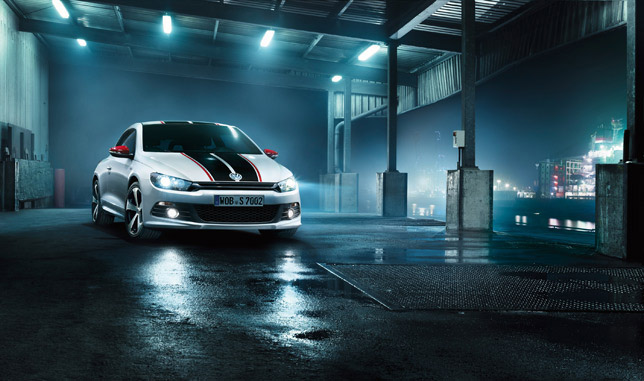 Volkswagen Scirocco GTS
Source: Volkswagen