Volkswagen Announces Pricing For 2015 Golf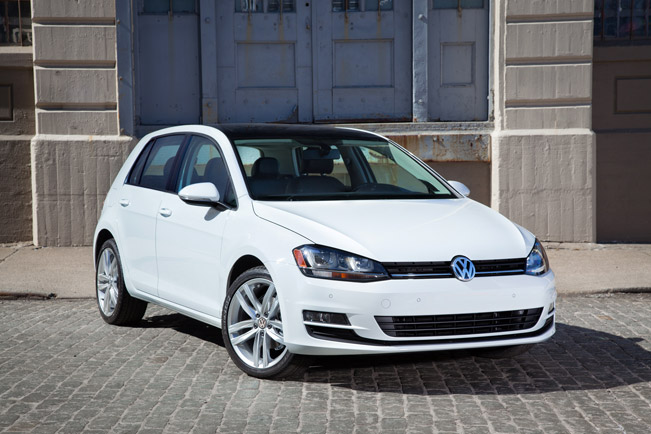 2015 Volkswagen Golf - or the seventh-generation version of VW's worldwide best seller is not only offering more spaciousness, less weight, and increased efficiency, but also comes at an even better value. Whatever the trim level, the new Golf is better equipped than its predecessor. For instance, the two-door Golf Launch Edition model adds many standard features over the outgoing Golf 2.5L. Some of them include the turbocharged and direct-injection four cylinder as the base engine, standard 5.8-inch touchscreen infotainment system, Bluetooth connectivity, Media Device Interface (MDI) with iPod integration, Standard Automatic Post-Collision Braking System (APCBS) and SiriusXM Satellite Radio.
The new Golf is scheduled to be available at dealerships in August. It will be offered in two- and four-door variants with two powertrains: the EA888 1.8-liter turbocharged and direct-injection four-cylinder TSI engine, mated to either a five-speed manual or a six-speed automatic transmission; and the all-new EA288 2.0-liter turbocharged and direct-injection four-cylinder TDI Clean Diesel, coupled with a six-speed manual or a six-speed DSG dual-clutch automatic transmission.
Golf TSI models equipped with the first engine will be available in five trim levels: Launch Edition, S, S with Sunroof, SE, SEL. The Golf TDI Clean Diesel models only feature four doors and will be offered in three trims—TDI S, TDI SE, and TDI SEL.
Some of the optional features for the new Volkswagen model include Fender Premium Audio System and Climatronic automatic air conditioning. Furthermore, at launch, the German brand will also offer the Golf Sport model, that will be equipped with six-speed automatic transmission and the Lighting Package. The latter includes standard Bi-Xenon headlights.
On the other hand, Launch Edition can be offered in either Pure White or Platinum Gray. The model has been visually enhanced with a bodykit that includes a front lip spoiler, side skirts, a rear valence, a larger rear spoiler, and chrome exhaust tips. The pricing of 2015 Volkswagen Golf Launch Edition begins $17,995 USD.
Source: Volkswagen