2012 CFC Volkswagen GTI LeitGolf
This Volkswagen GTI Golf has been optimized by the company CFC Styling Station Neuss and now carries proudly the name LeitGolf. In it the tuner has applied their craftsmanship and had the aim to show the direct connection between the car and the street through the means of wheel and tyre combination. To accomplish this goal they have even equipped the car with two variations of different wheel designs – pink ASA GT1 8,5x19 inch wheels on the one side and red ASA GT3 wheels identical in size on the other side. Both were provided with Hankook EvoS1 225/35R19 tyres. At the front, one can see the Eibach spacers, while at the rear – the 5–mm H&R wheel disks. Furthermore, there has been also added APX AP coilovers, which in combination with H&R set of stabilizers, provide support for better dynamics. In addition, the car is supplied with the Kerscher carbon-lip and a 2,5 cm wide front fender. The new design of the car body is taken from the Golf VI's R-variant, where side sills, rear diffuser, mirror caps and engine cover triumph as carbon-parts in Black-Gold-Design. Next, MR Car Design supplied the vehicle with down-pipe to the turbo exhaust system. The latter is equipped with a black end pipe as in R-Design. More importantly, this engine can develop 270 hp (199 kW) and 400 Nm (295 lb-ft) of torque. Additionally, the car features unique braking system with TÜV certificate, aluminum 4-piston brake calipers, carbon-steel two-piece grooved brake discs and also an ultra light floating aluminum hub. A car racing feel while driving, is delivered thank to the high-performance brake pads.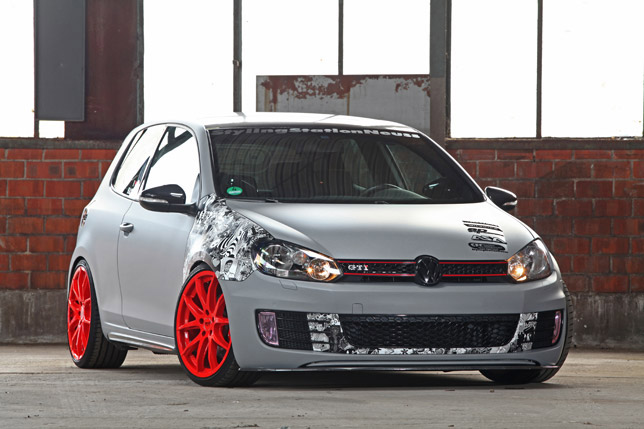 The car is covered with matt gray foiling and also has fender's matt Sticker Bombing and parts for black and white spoiler. The top of the car is painted in High Gloss Carbon Black (, while the fog-lights are in Pink Tint Lights. A significant contrast is made by the anthracitic colored tinted glass sets. Another highlight that has to be made is the unique audio systems featured in this project: the Hi-Fi Device, which is delivered by MK SoundStyle, while the radio set is supplied by Pioneer, the amplifiers are by Mosconi and the dynamics by Rainbow. The car tuning costs 12 900 Euro, additional 10 000 Euro go for the HiFi.
Source: CFC Styling Station Neuss