Volkswagen Revealing Fox Pepper and Saveiro Surf at the Sao Paulo Auto Show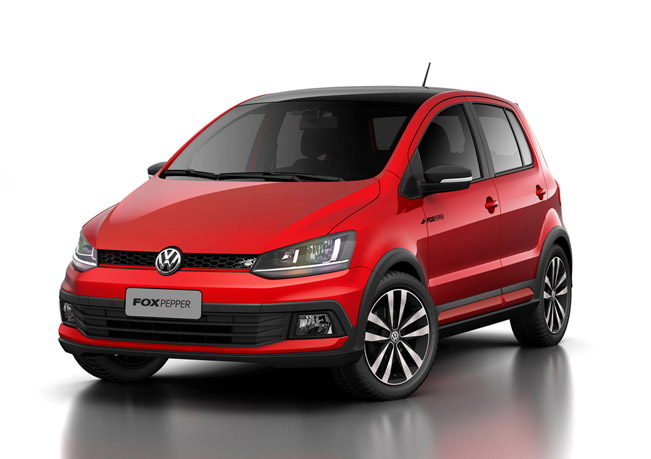 At the Auto Show in Sao Paulo Volkswagen will reveal two exclusive new models: Fox Pepper and Saveiro Surf. The Fox Pepper is a spicy mini concept based on company's sub-Polo hatchback. It has unique visual stance, sporty and youthful appearance. The unit exhibited at the show will carry a Red Tornado pain scheme, which clearly shows the stem of the name Pepper. The car will be equipped with wide range of security and technology features, such as Electronic Stability Control (ESC) and traction control. The concept is powered by Volkswagen's new 1.6l MSI engine, which produces 120 hp (88 kW) and is mated to a six-speed manual transmission.
In contrast to the overall color theme, the roof of the Pepper Fox is black. In the same color is the front bumper. The new auxiliary headlights are rectangular and have a role of functioning as fog lights, spotlights and cornering lights. The front grille has a honeycomb shape with horizontal red trim, which is inspired by the new Golf GTI.
Another element that emphasizes the sporty nature of the model is the 15 inch alloys which were also painted in black on the inner side. The appliqué on the bottom of the doors is also different and is includes a chrome effect.
The black shade is also included at the rear of the car. At the bottom of the rear bumper there is an air diffuser painted in glossy black. Pepper Fox also has a dual exhaust tip. Going inside, the car is adorned a steering wheel in the design of the new Golf Highline and featuring intuitive controls for audio and phone systems. The seats are wrapped in Paladium (gray) leather and have some red accents on the have a front seats and the door panels appliqués.
Volkswagen Pepper Fox is driven by the 1.6l engine MSI engine, which delivers up to 120 hp. The car can accelerates from rest to 100 km/h in only 9.8 seconds on its way to a maximum speed of 189 km/h.
The company will also showcase at the show a Fox-based Saveiro Surf model. The vehicle is a single-cab version of the recently facelifted Saveiro ute. It is powered by the same engine as the Fox Pepper, but less potent - with 104 hp (76 kW). There will be also some improvements in terms of exterior and interior which will include equipment such as set of new 15-inch wheels, honeycomb grille, roof bar, unique graphics and surf board resting in the bed.
Source: Volkswagen