Vorsteiner GTRS4 Wide Body for the BMW M4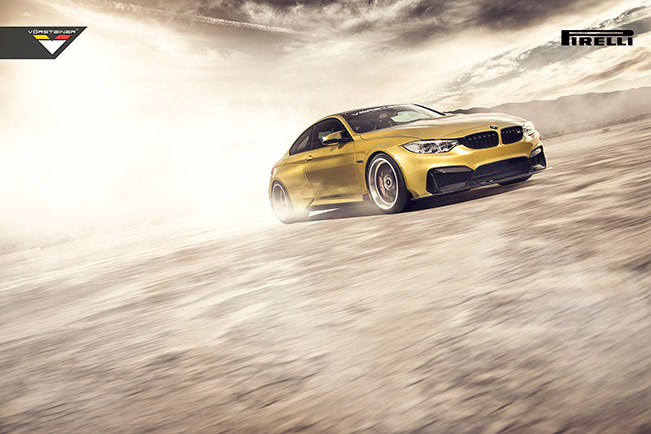 Vorsteiner always comes with one key goal – to create a design which will really become the quintessential design icon, representing the next-generation ultimate driving machine. The tuning company makes this possible by crafting a cutting-edge design that is so revolutionary and so innovative that succeeds in establishing new benchmarks. BMW has always had a central position in the heart of the tuner. With the new BMW M4 GTRS4 Vorsteiner once again has successfully tried to demonstrate an absolute idol among BMW automobiles which is regarded as representative symbol of audacity, craftsmanship and supremacy.
With the GTRS4 Vorsteiner marks and celebrates its 10 year anniversary. This BMW is a full lightweight carbon composite wide body conversion that is originally based on the 2015 BMW M4 coupe.
The team of specialists has worked to ensure that the improved wider fenders and wheels are functional and serve the best purpose possible. Vorsteiner also crafted air ducts for optimal cooling towards the front brakes, while focusing on aerodynamic ventilation for the inbound air to exit. The front fenders have a total span of 4 inches while the rear quarter panels is 7 inches wider than its previous form. The BMW M4 GTRS4 benefits from 3-Piece Forged wheels in 20x10.5J and 20x13.5J which are designed to match the 275 and 345 width tires.
The Special Edition GTRS4 Package Includes:
Carbon Fiber Front Bumper with an Integrated Front Splitter Element
Carbon Fiber Wide Front Fenders with Ventilation (2 inches wider each side)
Carbon Fiber Aero Side Blade Elements
Carbon Fiber Wide Rear Fenders (3.5 inches wider each side)
Carbon Fiber Rear Bumper with an Integrated Rear Diffuser Element
Vorsteiner 90mm Quad Exhaust Tip Finishers (Options: Brushed | Diamond Black)
Vorsteiner Embroidered Colored Floor & Trunk Mat Set • Vorsteiner Chrome Trunk Badging

 

GTRS4 Forged 3-Piece Wheels, 20x10.5J | 20x13.5J in Gloss Brushed Shadow
Technology Partners:
Pirelli Tires
KW Suspension
Brembo | Race Technologies
ESS Tuning
KI Studios
Gold & Co. London
Source: Vorsteiner