Wimmer RST Infernal Trio Armada Generates up to 1,300 Horsepower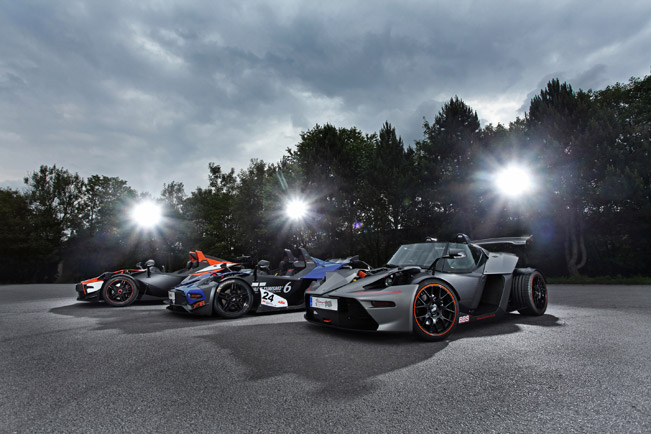 We haven't heard from Wimmer RS probably since last year. Now, the tuning company from Solingen, Germany, returns with not one, but three powerful cars, based on X-BOW and called "Infernal Trio Armada". More impressive is that these vehicles produce 1,300 horsepower. This result was achieved via chip tuning and other engine modifications. The first car is the X-BOW GT, which has an extended engine tuning with metal cat, modified turbo charger, optimized high compression pump, special air suction, and a very special Wimmer exhaust system. In addition, there are also a lot of internal hardware upgrades inside the powerplant.
There are also modified chassis components and giant Wimmer EVO 2-Carbon rear wings with adjustable flaps. In terms of numbers, the serial parameters of 285 hp (210 kW) and 420 Nm (310 lb-ft) of torque have been increased up to the diabolic 485 hp (357 kW) and 520 Nm (384 lb-ft).
The sprint from 0 to 60 mph is covered effortlessly in less than seconds, and the Vmax is 160 mph (255 km/h). Vehicle's handling has been also optimized even. The road "bend robber" with its full carbon chassis is eye catcher par excellence.
The next second car is called X-BOW R, and it is slightly less powerful than the first one. It generates 455 hp (335 kW) with 500 Nm (368 lb-ft) of torque after the tuning, which is an increase with 155 hp and 100 Nm. The top speed is positioned at 154 mph (248 km/h). It also received some chassis and suspension modifications.
The third family member is the X-BOW RR, which brings along 370 hp (272 kW). Everything in it has been optimized and there is the option of a special Wimmer North loop setup featuring wheel load measuring.
Source: WIMMER Rennsporttechnik via Miranda Media