2011 BMW ActiveE
BMW ActiveE has three large energy storage units that are positioned in the area where the engine block, power transmission to the rear wheels and the tank are to be found in a vehicle with a combustion engine.
The electric motor is mounted at the rear-axle offers 170PS (125 kW) and 250Nm of torque, which is available from a standstill and, for the first time, remains utilisable across an exceptionally broad load range.
BMW ActiveE accelerates from 0 to 100 km/h in 9 seconds and the top speed is electronically limited at around 145 km/h (90 mph).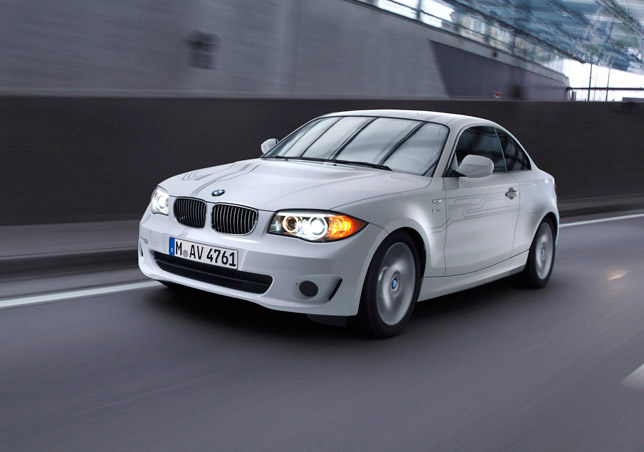 Body
BMW ActiveE
Number of doors/seats
2/4
Length/width/height (unladen)
Inch
171.65/68.82/56.6
mm
4.360/1.748/1.438
Wheelbase
inch
104.7
mm
2.660
Track front/rear
inch
58.03/59.33
mm
1.474/1.507
Turning circle
feet
35.1
m
10.7
Transmission oil incl. axle drive
l
Permanent filling
Weight, unladen to DIN/EU
lbs
4,001
kg
1,815
Max load to DIN
lbs
739
kg
335
Max permissible weight
lbs
4,740
kg
2,150
Luggage comp capacity to DIN
l
200
Engine
Type
Electric motor
Motor type
Hybrid synchronous motor
Output
kW/bhp
125/170
Torque (from idle)
Nm
250
Max. RPM (cut off)
min–1
12,000
Electrical system
Battery capacity
kWh (gross)
32
Battery weight
lbs
992.1
kg
450
Battery charge time in h
at 110 V/16 A  (1.3 kW)
16 to 20 hours
at 240 V/32 A  (7.7 kW)
4 to 5 hours
Battery design
192 cells à 40Ah in 25 modules in three individual units
Battery cooling
Liquid cooling
Battery location
tank, tunnel, front wall
Peak current
A
400
Running gear
Front wheel suspension
Two-joint strut suspension
Rear wheel suspension
Five-arm axle adapted to the electrical power unit
Front brakes
1-piston sliding calliper disk brake / disc ventilated
Diameter
inch
11.8
mm
300
Rear brakes
1-Kolben-1-piston sliding calliper disk brake / disc ventilated
Diameter
inch
11.8
mm
300
Driving stability systems
ABS incl. brake assistance /and Cornering Brake Control (CBC) Dynamic Stability Control (DSC) with additional functions
Steering
Rack-and-pinion steering with electric steering assistance
Overall steering transmission
14.4:1
Axle load transmission
front/rear 1944 / 2057 in lbs
front/rear 882/933 in kg
Tires
205/55R16 with emergency running properties / rolling resistance optimised
Performance Ratings
Power-to-weight ratio (DIN)
kg/kW
9.76
Acceleration 0-60 km/h
S
4.5
Acceleration 0–100 km/h (0–62 mph)
S
9.0
Top speed1
mph
90.0
km/h
145
Range FTP 722
mls
150
km
240
Operational range
mls
100
km
160
Consumption (FTP 72)
Total
kWh/mls
0.19
kWh/km
0.12
CO2
g/mls
0
g/km
0