2011 Mazda MX-5 Price - £17 990
Mazda MX-5 is the world's best-selling two-seat roadster. It celebrates production of over 900 000 units and it has been ranked the highest sports car in the 2011 J.D. Power ownership satisfaction survey, published last week.
The iconic Mazda MX-5 is priced at just £17 990 and it goes up to £23 225 for the top-of-range model. Two new special edition Kendo models are also on sale from £19 270.
The MX-5 beats the Volkswagen Scirocco, Audi TT, and Mercedes-Benz CLK and SLK.
WhatCar? magazine commented: "The MX-5 proves that sports cars don't need to be sophisticated, luxurious or expensive to be fun-to-drive.  Mazda's MX-5 has been commended in the past and this year its margin of victory is even bigger than it was in 2010."
"Today, the Mazda MX-5 remains unrivalled as a rewarding sportscar that can also be used for everyday motoring all year round," said Peter Allibon, Sales Director, Mazda Motors UK.
"The MX-5 soft-top continues to offer the purest, fun-to-drive thrills, while the Roadster Coupe's folding hard top provides a more refined experience, with that same exhilarating drive.  Its low running costs and legendary reliability means the MX-5 remains an extremely competitive proposition as hundreds of very satisfied owners confirm.", he added.
"Whether potential buyers are considering purchasing any of the regular MX-5 models, or the latest 'Kendo' special editions, this J.D. Power survey result shows that they'd be joining a group of owners who simply love their cars,", said Allibon.
"It is little wonder that it continues to break records as the world's best-selling open top roadster.", he finished.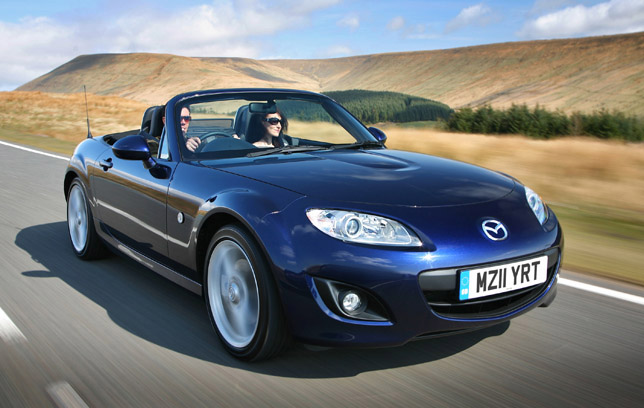 Source: Mazda