2011 Porsche 911 Carrera 4 GTS
Porsche has exclusively added its famous Carrera line-up with two new, top-end 911 Carrera GTS models, which are now packed with the brand's intelligent, all-wheel drive Porsche Traction Management (PTM).
Representing a 'hot' Coupe and a sense-pleasing Cabriolet, both new rides combine the 408 horsepower (300 kW) top of the range plant of the Carrera GTS family and an all-wheel drive twin. While boasting Porsche's Intelligent Performance, the new all-wheel 911s consume no more than the equivalent Carrera 4S versions, the Coupe model remains at 11.0 l/100 km (25.7 mpg imp.) and the Cabriolet at 11.2 l/100 km (25.2 mpg imp.) respectively based on the New European Driving Cycle (NEDC).
As standard both rides come with six-speed manual transmission, but the Porsche-Doppelkupplungsgetriebe (PDK) seven-speed is also available as an option. In the terms of performance, the Carrera 4 GTS Coupe estimates a zero to 100 km/h (62 mph) sprint time of 4.6 seconds, while the Cabriolet version hits the 100 km/h in 4.8 seconds.
Both top-of-the-range rides, the Carrera 4 GTS Coupe and the Carrera 4 GTS Cabrilolet also showcase few minor cosmetic additions. They have reflective stripe between the taillights and black 19-inch RS Spyder lightweight central locking alloys fitted with 305/30 ZR 19 tyres on the rear axle.
Scheduled for market launch in July, the new 911 Carrera 4 GTS Coupe will have a price tag of 111,956 Euros on the German market, and the Cabriolet will cost 122,071 Euros.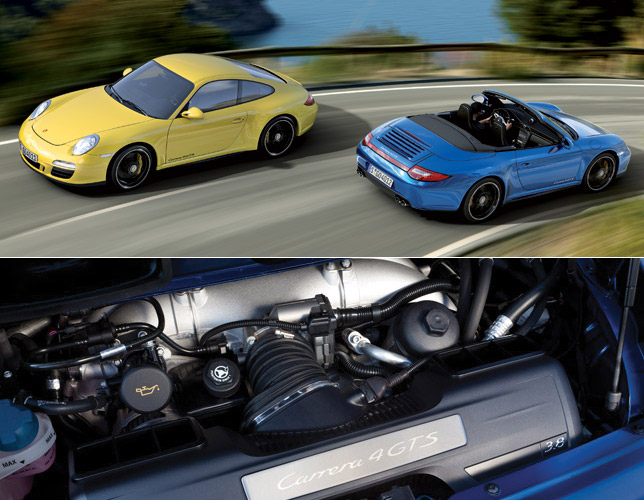 Source: Porsche