2012 Dodge Charger SRT8
At the Chicago Auto Show, Dodge has unleashed its 2012 Dodge Charger SRT8, the latest addition to the well known Dodge SRT high-performance lineup. Officially announced for market launch in this year's fall, the 2012 Charger SRT8 sports improved powertrain with more horsepower and improved fuel economy, thanks to its new active valve exhaust system.
Externally, the 2012 Dodge Charger SRT8 benefits new front and rear fascias, along with a new rear spoiler. Its front grille, grille surround and Dodge crosshair now are finished in high-gloss black, while a re-styled bonnet with a '6.4 L' (liters) badge and black air exhauster keeps the new 6.4-liter HEMI V8 that delivers 465 horsepower and 465 lb.-ft. of peak torque cool. At the rear end, the Dodge muscle ride's new signature 'racetrack' taillamp design with 164 illuminating LEDs boasts new 4-inch round dual exhaust tips and an SRT8 decklid badge that uniquely emphasizes its Street and Racing Technology DNA.
Further high-end highlights include the renowned W5A580 five-speed automatic transmission, the new adaptive damping suspension with 'Auto' and 'Sport' modes and the set of 20-inch lightweight forged and polished alloy rims.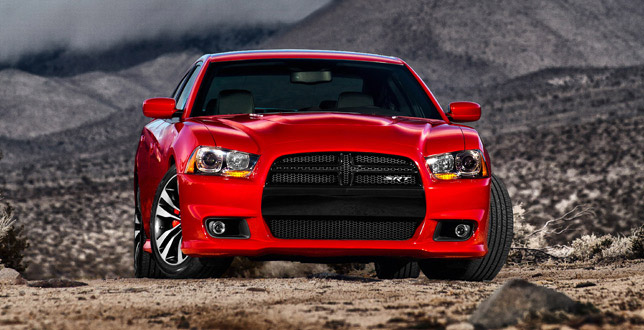 Ralph Gilles, President and CEO, Dodge Brand said: "We're continuing the fast-paced rebuilding of Dodge as our performance brand, and the expansion of our SRT product lineup in 2012 is an important part of our rejuvenation. The new 2012 Dodge Charger SRT8 builds on the iconic four-door fastback coupe design of the all-new Charger and adds a much larger power band across the rpm range, along with intelligent performance attributes and safety and creature comforts for customers who are passionate about performance driving."
2012 DODGE CHARGER SRT8 specs:
Engine: 6.4-liter (392 cubic inch) HEMI V-8
Estimated Power: 465 bhp
Estimated Torque: 465 lb.-ft.
Estimated Handling: .88g on skidpad
Estimated Top Speed: 175 mph
Estimated 0-60 mph: High 4-second range
Estimated 1/4 mile: High 12-second range