2012 Subaru Impreza officially introduced
At the display of 2011 New York International Auto Show, Subaru has officially took-off the wraps on its 2012 Subaru Impreza 4-door and 5-door models, introducing the US market the first ride to provide customers with "Enjoyment and Peace of Mind" through Subaru's new "Confidence in Motion" brand statement.
Developed under the theme 'Redefining Value, Redefining Class', the newly premiered ride is the fourth generation Impreza since the model's debut in the distant 1992. For its design process, Subaru shares: "we focused on improving environmental friendliness and adapting to changes in customer's values." Thanks to these approach, the all-new Impreza showcases amazing reliability, handling, and safety features, as well as Subaru's original Symmetrical AWD (All-Wheel Drive) system and high-end Boxer engine linked to a new Lineartronic transmission.
On the inside, the 2012 Subaru Impreza boasts more spacious cabin with improved comfort and quality, but without an overall increase in size. Its bottom end of the A-pillar has been extended 200 mm toward the front and the wheelbase enlarged by 25 mm. According to Subaru, the 4-door model Impreza has enough trunk space to accommodate four golf bags, while the 5-door model is capable to accommodate three golf bags or a large baby stroller.
In more details, the power compartment of the newly presented Impreza houses the third generation Subaru Boxer engine that debuted last year with a completely new design. It benefits improved fuel efficiency and  performance (36 mpg highway and 148 horsepower at 6,200 rpm), yet is mated to a new Lineartronic (CVT) 5-Speed Manual transmission.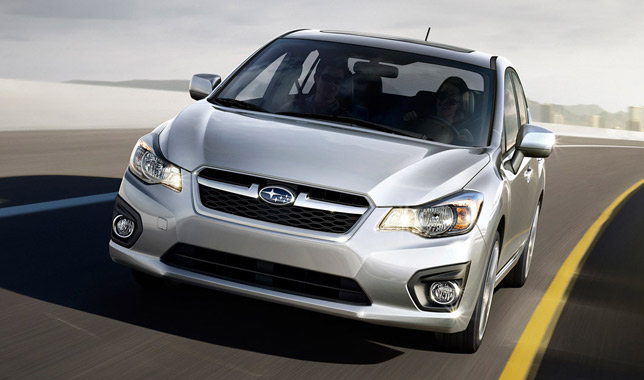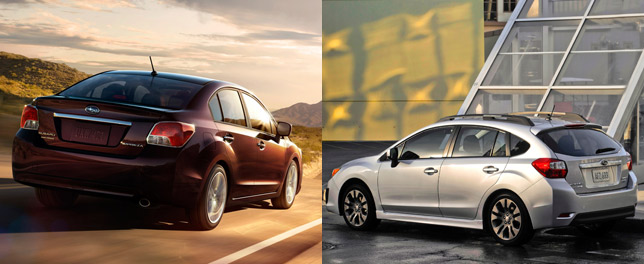 2012 Subaru Impreza Major Specifications:
Overall Length x Width x Height (mm): 4,580 (4-door), 4,415 (5-door) x 1,740 x 1,465
Wheelbase (mm): 2,645
Track Front/Rear: 1,510/1,515
Vehicle Weight (kg): 1,320 (2.0i 4-door/5-door 5MT model)
Seating Capacity: 5
Source: Subaru