2013 Hyundai Sonata Tackles Other from its Segment
Don't you hate it when car manufacturers bash one another over which one is the leader in a segment? That's exactly what Hyundai are now doing with their 2013 Sonata. We had to go trough bulks of comparisons between their car (the 2013 MY) and 2012 MY Altimas and Accords, Malibus and Fusions to actually get to some relevant information. Whichever table we looked at, the Sonata was one step ahead... but is that really the case?
It is cheap, we'll give them that. At $21,720 you get a Sonata GLS complete with the "Popular Equipment Package". That roughly means front heated seats and fog lights among other luxuries. Power comes from a Theta II GDI 2.4-liter unit which, judging by the acronym, one might think it's a diesel. The thing is GDI stands for Gasoline Direct-Injection and that's what the Sonata uses to spray fuel into the cylinders at pressure of 2,175 psi. Thus the compression ration stands at a high 11.3:1 and the pistons inside are dished so that they can handle the combustion process more efficiently. With all that in mind, we are being told that the Sonata achieves 24 mpg in an urban environment and 35 mpg on the highway. The transmission that comes as standard is a six-speed automatic with SHIFTRONIC and has to deal with 198 horsepower and 184 lb.-ft. of torque. The SE trim also boasts a standard dual exhaust system which adds 2 more hp and 2 more lb.-ft. of torque.
While the 2.4 Theta II GDI is naturally aspirated, the 2.0-liter one is turbocharged. That means even more power and almost no compromises in terms of efficiency – 274 hp at 6000 rpm and 269 lb-ft of torque within the 1,750 - 4,500 rpm range.
On the Hyundai Sonata 2.0T SE trim you get a fully automatic temperature control unit which is convenient. What isn't convenient, but rather exciting, is the sporty suspension - stiffer springs and larger stabilizer bars, resulting in a 20 percent increase in roll resistance. Add to that 18-inch, low profile tires and a constantly adapting electric power steering and you've got yourself a car that does not shy away from a corner.
Driver aids include the usual ABS and ESP systems but also Electronic Brake-force Distribution – depending on the place of load, braking power gets redirected. Six airbags and active front-seat head restrains keep you safe and sound.
It goes without saying, that inside, the connectivity is topnotch – XM Satellite Radio for three months, Bluetooth, a place to plug in your iPod or USB drive and a touch-screen navigation system that comes with the SE and Limited trim levels.
Overall, the Hyundai Sonata sounds like a decent car. The only thing the company needs to do is to stop jabbing the others and gain and focus on their product. The automotive industry should not tolerate dirty play.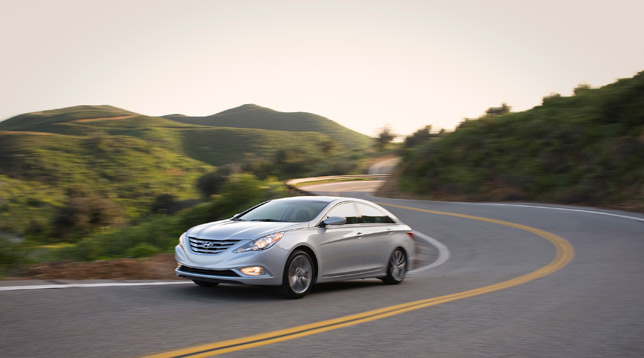 Source: Hyundai