2013 Range Rover UK - Price £71,295 [video]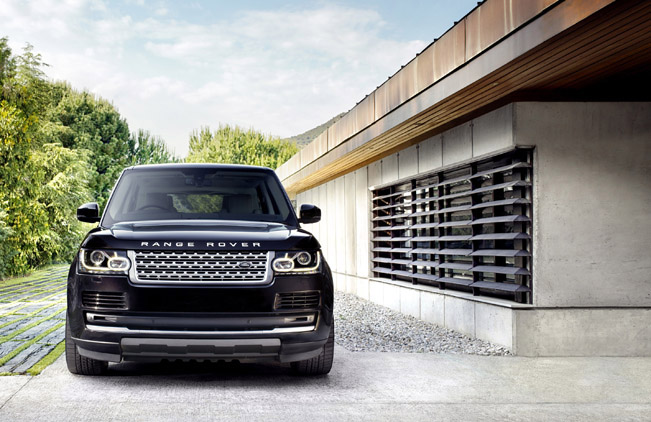 2013 Range Rover is named to be the world's most refined and capable SUV. We do not doubt about that, especially when we see the awesome exterior and interior of the vehicle. The fourth generation of the iconic Range Rover line, the new model has been revealed to the world via a dramatic event held at The Royal Ballet School in Richmond, London.
"Launching the all-new Range Rover represents a major milestone for Land Rover, being the first exciting output from an unprecedented investment in premium vehicle technologies," commented John Edwards, Land Rover Global Brand Director.
"The new Range Rover preserves the essential, unique character of the vehicle – that special blend of luxury, performance and unmatched all-terrain capability.  However, its clean sheet design and revolutionary lightweight construction have enabled us to transform the experience for luxury vehicle customers, with a step change in comfort, refinement and handling.", he added.
The new Range Rover is powered by a powerful 510HP (375 HP) LR-V8 supercharged engine and two diesel power units – a 3.0 liter TDV6 with 258HP (189 kW) and a mighty SDV8 with 339HP (249 kW). All engines come with the BMW's ZF 8-speed automatic gearbox.
The Supercharged version accelerates the enormous SUV to 100 km/h in 5.1 seconds. The TDV6 manages to be 22% economical, returning 37.7 mpg UK (7.5 liters / 100 km) and has CO2 emissions of 196 g/km.
2013 Range Rover is priced from £71,295 for the Vogue 3.0L TDV6 and it goes all the way up to £98,395 for the fully-loaded Supercharged model.
The all-new Range Rover has been engineered with the latest developments in vehicle technologies, from interior luxury features to advanced chassis and driver assistance technologies.
The interior is packed with a full suite of premium features to provide both front and rear seat passengers with the same peerless luxury experience.  Their well-being is assured by the latest interior technologies for comfort, convenience and seamless connectivity.
The new and improved features include:
Convenience – premium features including keyless entry, soft door close with power latching, power upper and lower tailgates, cooler compartments, and electrically deployable towbar
High-end audio from British specialists Meridian – exclusive surround sound music systems with audiophile-quality sound
Displays – state-of-the-art high-resolution displays, include the stunning full digital instrument cluster and the central 8-inch touch-screen with Dual-View functionality
Voice control and connectivity – a seamless connectivity package for mobile devices
Climate control – all-new best-in-class climate control systems, including the powerful new premium four-zone system and Park Heater timer facility
Luxurious seating – upgraded seating with luxurious new features such as multi-mode massage, and the exclusive new Executive Class rear seating package
Interior illumination – the latest LED illumination for subtle and sophisticated ambient lighting, including the ability to change the colour scheme to suit the driver's mood
To enhance dynamic performance, and to ensure that drivers enjoy a relaxed and stress-free experience behind the wheel, the new Range Rover incorporates a comprehensive range of advanced chassis and driver assistance technologies.  Among the new and enhanced features are:
Two-channel Dynamic Response active lean control, and Adaptive Dynamics with continuously variable damping
Electric Power Assisted Steering, which enables Park Assist – the latest automated technology to help drivers parallel park their car in tight urban parking spots
Adaptive Cruise Control – with new Queue Assist feature which allows the system to continue functioning at low speeds and down to a complete stop
Intelligent Emergency Braking (including Advanced Emergency Brake Assist) – to help drivers avoid a collision if the traffic ahead slows quickly or another vehicle suddenly moves into their lane
Blind Spot Monitoring – with new Closing Vehicle Sensing feature to detect vehicles which are closing quickly from a further distance behind
Reverse Traffic Detection – to warn drivers of potential collisions during reversing manoeuvres
Surround Camera System – with T Junction view, Trailer reverse park guidance, and Trailer hitch guidance.
Source: Land Rover