2014 Fiat 500 Facelift - Price £10,160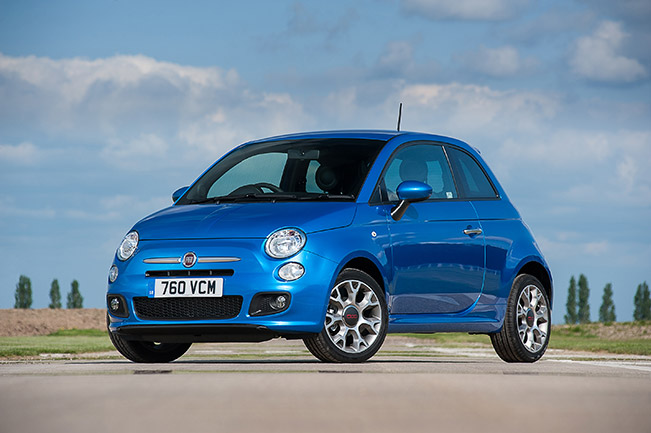 The new 2014 Fiat 500 Facelift is already available in the UK. It is priced from £10,960 OTR for the hatchback and £13,510 OTR for the 500C. Available options include Dualogic transmission for £750 (1.2 69HP and 0.9 TwinAir 85HP), an electric sunroof for £580 and Blue&Me connectivity for just £270. A key new feature is the segment-first 7" TFT digital instrument display, developed in collaboration with Magneti Marelli.
Standard on 500S and Cult models (and optional on Lounge versions), the layout and execution of the speedometer, rev counter and trip computer will be familiar to anyone who has driven the current FIAT 500, but the centre of the display – which contains a digital image of the car – can be configured to show various trip computer readouts, such as distance travelled, instant fuel consumption, range, etc.
Other significant innovation is the new 0.9 liter TwinAir Turbo engine. It comes with a high-efficiency turbocharger; an exhaust manifold integrated into the cylinder head; a Start&Stop fuel-saving system and the new MultiAir II intake valve control system to provide an even more enticing combination of power and efficiency. It is connected to a 6-speed manual gearbox.
The power is 105HP (77 kW) at 5,500RPM and 145Nm (107 lb-ft) of torque at just 2,000RPM in "sport mode" and 98HP and 120Nm in "eco mode". 0-100 km/h in 10.0 seconds and a top speed of 187 km/h (117 mph). Despite the improved performance, the small car is able to return 67.3 mpg UK (4.2 liters / 100 km) and just 99 g/km of CO2.
A high level of safety equipment includes - ABS with EBD, 7 airbags, ISOFIX attachments and DRLs. ESP, complete with ASR/MSR and Hill Holder, is also available on all versions as an extremely affordable option.
FIAT 500 Model
Hatchback 500

OTR Price

Convertible 500C

OTR Price

Pop 1.2 69hp
£10,160
£13,160
Pop 1.3 16v MultiJet 95hp
£12,560
£15,560
Colour Therapy 1.2 69hp
£10,960
£13,510
Colour Therapy 0.9 TwinAir 85hp
£12,160
£14,710
Lounge 1.2 69hp
£11,560
£14,560
Lounge 0.9 TwinAir 85hp
£12,960
£15,760
Lounge 0.9 TwinAir 105hp
£13,560
£16,360
Lounge 1.3 16v MultiJet 95hp
£13,960
£16,960,
500S 1.2 69hp
£11,710
£14,710
500S 0.9 TwinAir 85hp
£13,110
£15,910
500S 0.9 TwinAir 105hp
£13,710
£16,510
500S 1.3 16v MultiJet 95hp
£14,110
£17,110
Cult 1.2 8v 69hp
£13,060
£15,560
Cult 0.9 TwinAir 85hp
£14,460
£16,760
Cult 0.9 TwinAir 105hp
£15,060
£17,360
Cult 1.3 16v MultiJet 95hp
£15,460
£17,960
Source: Fiat