2014 Mazda6 i-ELOOP - 5.8 l / 100 km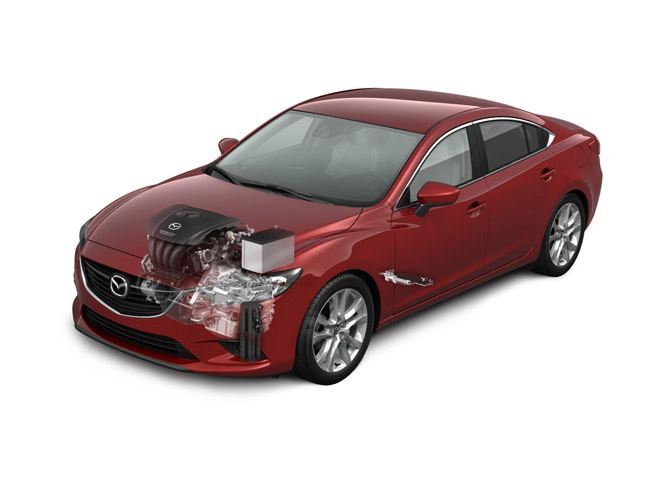 2014 Mazda6 i-ELOOP is capable of achieving 40 mpg US (5.8 l / 100 km) on the highway. The new technology is available exclusively on the Grand Touring models priced from $29,695.
The i-ELOOP is part of the Technology Package which adds $2,080 to the final price tag so an i-ELOOP-fitted Mazda6 starts from $31,775 without the destination charges. Other equipment in the package include active grille shutters, Sport mode button, high beam control, lane departure warning system, Mazda Radar Cruise Control and forward obstruction warning system.
The unique capacitor technology in i-ELOOP can store large volumes of electricity and, unlike batteries, can be charged and discharged rapidly and is resistant to deterioration through prolonged use.
The i-ELOOP includes a new variable voltage (12-25V) alternator, a low-resistance Electric Double Layer Capacitor (EDLC) and a DC/DC converter. i-ELOOP starts to recover kinetic energy the moment the driver lifts off the accelerator pedal and the vehicle begins to decelerate.
Instop-start driving conditions, the use of i-ELOOP fuel economy improves by approximately 10% .  Working in conjunction with Mazda's unique i-stop idling stop technology, i-ELOOP can extend the period that the engine can be shut off.
Source: Mazda