2015 Ford Mustang GT - 5.0 liter Supercharged V8 - 700HP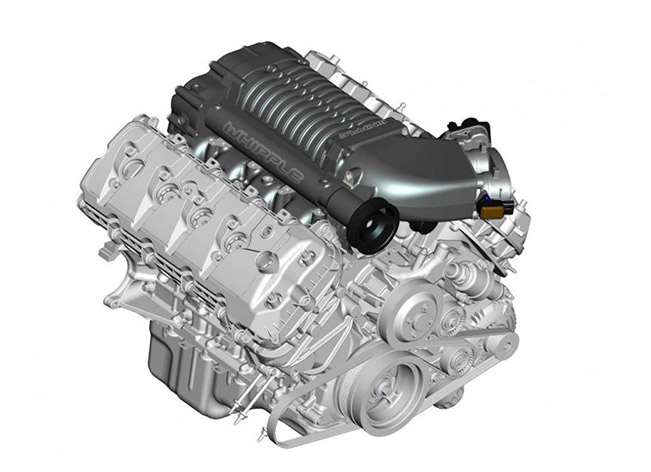 The new 6th generation Ford Mustang is going to get a supercharger kit from Whipple. They will offer a 2.9 liter twin-screw supercharger for the V8 5.0 liter engine.
The result is no less than 700HP (522 kW) when running on 91-octane fuel. This is an increase of 280HP, but nothing is mentioned about the torque. The supercharger kit is offered with a standard six-or optional ten-rib belt system along with an aluminum intercooler.
The customers will be able to opt for a 5-year or 100,000-mile engine warranty.
- An estimated 700HP with 91-octane fuel - No other upgrades required, just massive power right out of the box, more HP per PSI than any other system - Front entry W175ax (2.9 liters) Whipple twin-screw supercharger that significantly outperforms competitions 1.9L and 2.3L roots-type systems - 26% more displacement then Eaton 2.3L supercharger - Integrated Crusher™ 170mm oval inlet - Massive air-to-water aluminum bar-plate intercooler with 15% more square area then previous generation - Massive aluminum intercooler reservoir holds more than double the IC water then previous generation - Whipple Superchargers massive oversized intercooled air-bypass system for industry leading reduction of burst knock and incredible fuel economy - Self-contained oversized oil system for dramatically reduced oil temps in even the most demanding conditions - One-turn turn inlet allows for decreased induction losses when compared to rear inlet systems and 180deg bends - Center discharge port for better cylinder to cylinder distribution then other twin-screws with cobbled together billet adapters and forward facing discharge - Discharge down design allows for less pressure loss which gives more power at lower boost levels - Top mount design allows for cooler operation then upside down SC's that conduct heat from engine and are trapped by runners and covers, causing hotter manifold temps and less power per pound of boost - More boost at the "hit" than any other twin-screw - Flat torque curve for incredible acceleration - Oversized heat exchanger for incredible intercooler water temps - 65lb/hr high flow fuel injectors included - Proven 6-rib belt system with adjustable idler system for easy belt changes and multiple pulley configurations - Optional race 10-rib belt system - Stainless steel jack-shaft with unique plastic cover (or optional carbon fiber) for increased safety - OEM quick connect fittings for easy installation, no ugly brass or steel fittings on the SC - Complete kits, Tuner kits and Hot Rod kits are available - Available in wrinkle black, polish or any custom color - Easily upgradeable with big cold air intakes and bigger throttle bodies - Optional 5-year 100,000 mile powertrain warranty
Source: Ford