Hennessey Supercharges 2015 Ford Mustang GT with 717 HP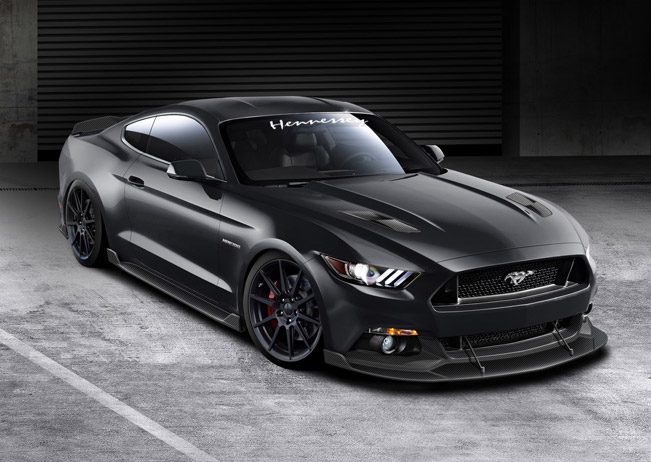 Hennessey Performance has made an HPE700 Supercharged Upgrade for the 2015 Ford Mustang GT 5.0L V8. Only 500 units will be built for the model year 2015, making the vehicle a limited Edition. What is more, thanks to the refinement, the Mustang is now capable of delivering 717 horsepower, meaning that it can finally battle Chevy's Corvette Z06 and Dodge's SRT Hellcat. In fact, with this project, the tuners are offering a 2015 Mustang that will outperform some of the fastest cars currently offered, but at a lower price point.
Key to that 717 hp (527 kW) and the 856 Nm (632 lb-ft) of torque at 4400 rpm is the Roots-type high-helix supercharger packing 7.25 psi of boost. Helping the V8 breathe more deeply is a high-flow throttle body and stainless-steel exhaust system. Upgraded injectors and fuel pump feed the V8, managed by Hennessey's proprietary engine management calibration.
The increase in horsepower also results in astonishing acceleration time, which in this case in only 3.6 seconds for the sprint from 0 to 60 mph. The tuning company is also offering for this Ford model customization options such as CarbonAero carbon-fiber bodywork that includes front splitter, side sills, rear diffuser and rear lip spoiler. There are also available 20-in. Hennessey H10 wheels shod with Michelin Pilot Super Sport 2 tires and a Brembo brake package with 15.1-in front rotors.
2015 Hennessey Ford Mustang GT has a pricing which starts at $59,500 USD.
Power
• 717 bhp @ 6,600 rpm • 632 lb-ft torque @ 4,400 rpm
Performance • 0-60 mph: 3.6 sec. • ¼ mile: 11.2 @ 131 mph
HPE700 Supercharged 5.0L V8 Engine Upgrade • 2.9 Liter Supercharger System • Throttle Body Upgrade • HPE Air Induction System • Upgraded Fuel Injectors • Upgraded Fuel Pump • All Necessary Gaskets & Fluids • Professional Installation • HPE Engine Management Calibration • Dyno Tuning & Road Testing • Hennessey Exterior Badging • HPE700 Exterior Badging • Supercharged Exterior Badging • Hennessey Premium Floormats • Serial-Numbered Dash & Engine Plaques • 3 Year / 36,000 Mile Limited Warranty
Additional Upgrades • CarbonAero Carbon Fiber Bodywork • CarbonAero Front Splitter • CarbonAero Side Sills • CarbonAero Rear Diffuser • CarbonAero Rear Lip Spoiler • Stainless Steel Exhaust System Upgrade
Wheels & Tires • Hennessey H10 Lightweight 20-inch wheels • Michelin Pilot Super Sport 2 tires
Source: Hennessey