2015 GMC Sierra Carbon Editions With New Sporty Looks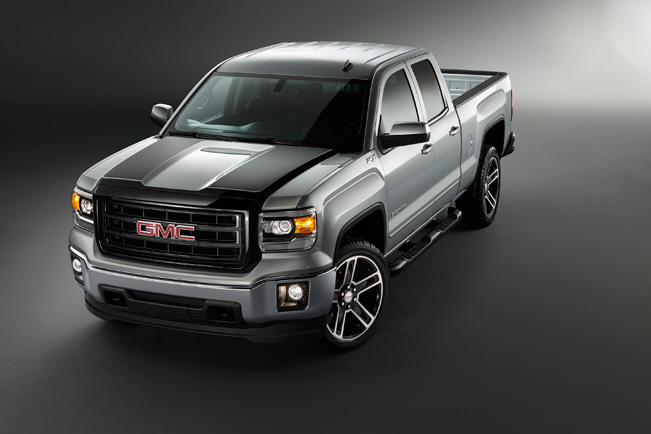 Knowing that most full size truck buyers end up customizing their pickups right of the dealership lot, GMC is keen on tapping into some of this market with special edition models. After introducing the Sierra all-terrain earlier this year, GMC has now announced the 2015 GMC Sierra Carbon Edition will be available for customers to order starting next month. Offered in three variations, the lowest priced version of this package is the standard Sierra Carbon Edition.
Starting with base 2015 Sierra double cab, the Sierra Carbon Edition brings a more ominous look with its black painted grill and carbon fiber body graphics on the hood and tailgate. Moving up the the Sierra Carbon 29 Edition, this truck adds more features by only being offered in as SLE trim level and like the previous model, it to only comes in the double cab body configuration. As the 20, in its name might suggest, the big difference that sets this version apart is the exceptional 20-inch wheels.
Finally, the Carbon 22 Edition, available on crew cab or double cab models gets the same styling upgrades with the inclusion of the outstanding 22-inch wheels, featuring a five-spoke design and a black accent at finish. This model also comes with black tubular side steps, remote start, dual-zone climate control and fog lights.
The Carbon 22 Edition Sporting Z 71 with 4x4 badges does not seem to be losing any of its ruggedness by adding the sporty new package. The glory of the new Sierra lies within its strength and sophistication. But for customers wanting to make an even better impression, the Sierra Carbon Edition models are the answer.
Options for the 2015 GMC Sierra Carbon Edition includes choice between two and four-wheel drive. A 4.3-liter EcoTec3 V-6 engine is standard, and brings up about 285 hp (212 kW), 305 lb-ft (413 Nm) of torque, and EPA highway ratings up to 24 mpg US (28 UK) (9.8 l/100 km). A 355 hp (264 kW), 5.3-liter EcoTec3 V-8 is optional.
Pricing for the 2015 GMC Sierra Carbon Edition starts at $33,075 for the standard model, while for the Carbon 20 Edition starts at $38,275, and if that's enough the pricing for Carbon 22 Edition starts at $42,270.
Source: GMC