2015 Nissan 370Z - US Pricing $29,990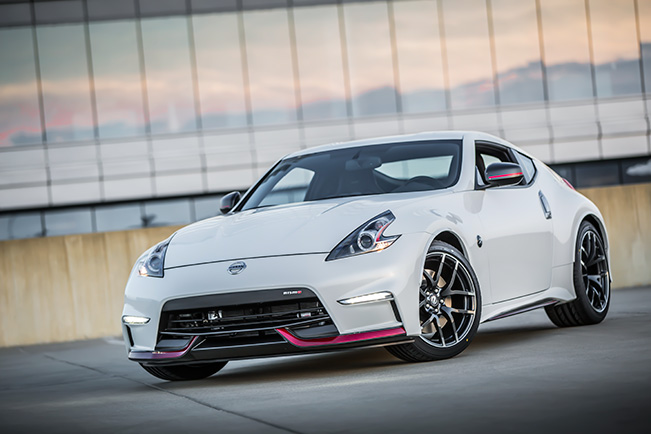 Nissan US has announced the pricing for the 2015 370Z Coupe, 370Z Roadster and 370Z NISMO. All models offer an expanded range of trim level as well as a lot of other key enhancements – starting with a new design for the ultra-performance NISMO model. The 370Z Coupe starts at just $29,990, the Roadster is $41,820 and the NISMO has a price tag of $41,990.
In conjunction with the addition of new trim levels, all option packages have been removed, streamlining the ordering and purchase process.
The engine is the well-known 3.7 liter naturally aspirated DOHC V6 – 332HP (244 kW) featuring Variable Valve Event and Lift Control (VVEL) and choice of 6-speed manual transmission with an available SynchroRev Match synchronized downshift rev matching system or a 7-speed automatic transmission with paddle shifters.
The NISMO model comes with improved aerodynamics, Hyper LED DRLs, black headlight bezels, signature NISMO red stripe accents and reshaped and downsized rear spoiler. It is offered in just four exterior colors – Solid Red, Magnetic Black, Brilliant Silver and Pearl White. The interior features redesigned black-and-red Recaro leather seats with Alcantara accents. The engine is boosted to 350HP (257 kW) and 373Nm (276 lb-ft).
The 370Z NISMO also features a 4-wheel independent suspension, large Nissan Sport Brakes and a Viscous Limited-Slip Differential (VLSD).
Manufacturer's Suggested Retail Prices* (MSRP) for the 2015 Nissan 370Z Coupe:
| | |
| --- | --- |
| 370Z Coupe 6MT | $29,990 USD |
| 370Z Coupe 7AT | $31,290 USD |
| 370Z Coupe Sport 6MT | $33,570 USD |
| 370Z Coupe Sport 7AT | $34,870 USD |
| 370Z Coupe Sport Tech 6MT | $37,070 USD |
| 370Z Coupe Sport Tech 7AT | $38,370 USD |
| 370Z Coupe Touring 6MT | $37,970 USD |
| 370Z Coupe Touring 7AT | $39,270 USD |
Manufacturer's Suggested Retail Prices* (MSRP) for the 2015 Nissan 370Z NISMO:
| | |
| --- | --- |
| 370Z Coupe NISMO 6MT | $41,990 USD |
| 370Z Coupe NISMO 7AT | $43,290 USD |
| 370Z Coupe NISMO Tech 6MT | $45,490 USD |
| 370Z Coupe NISMO Tech 7AT | $46,790 USD |
Manufacturer's Suggested Retail Prices* (MSRP) for the 2015 Nissan 370Z Roadster:
| | |
| --- | --- |
| 370Z Roadster 7AT | $41,820 USD |
| 370Z Roadster Touring 6MT | $45,270 USD |
| 370Z Roadster Touring 7AT | $46,570 USD |
| 370Z Roadster Touring Sport 6MT | $48,100 USD |
| 370Z Roadster Touring Sport 7AT | $49,400 USD |
Source: Nissan