AC Schnitzer presents the BMW X4 in an outstandingly athletic version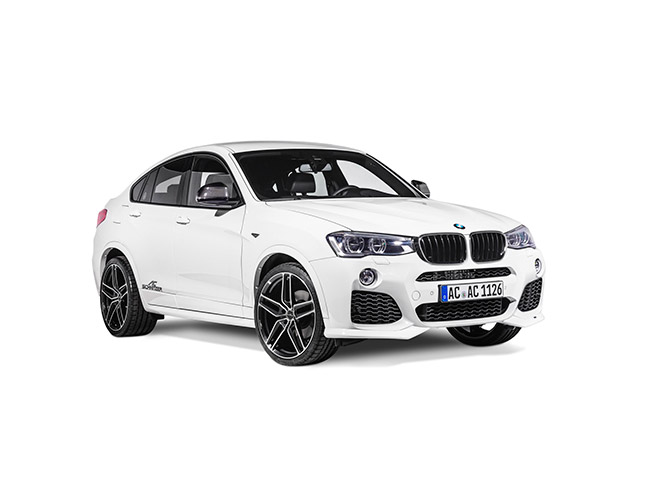 Despite the continuous presence of BMW X4 on the market, there hasn't been done a major overhaul until the German tuner company AC Schnitzer took on this 'initiative'. With the improvements given by the tuner, the face of BMW X4 is changed. It receives an impressive athletic vision which shapes the car's look like that of a real winner!
The enhancements include new aerodynamic parts like front spoiler, a new rear diffuser, carbon fiber mirror covers and a new rear skirt protection foil.
Apart from the aerodynamics and the wheels, AC Schnitzer has been working on improving some technical qualities as well. In consequence, BMW X4 20i (export version) delivers 245 hp and BMW X4 28i can go up to 294 hp. The winner among those models in terms of power, though, is the BMW X4 35i which can even amaze world championship judges with its mighty 360 hp.
On the diesel front there are some good enhancements as well. The diesel version comes with performance upgrades from 190 to 220 hp (in preparation) for the 20d, 309 hp for the xDrive30d and 360 hp for the xDrive35d. Initially, all performance updates have been developed on AC Schnitzer's principle of "Efficient Performance." In other words, that means that although the engine power is extended, the CO2 emissions remain the same. So the CO2 value per hp falls. All of them come with a two year warranty up to 100,000 km (62,000 miles).
The Aachen-based tuning professionals are fully aware that inner characteristics play a very crucial role for they raise the market value of a certain car. For this reason, AC Schnitzer completes the changes by providing the new BMW with pedal set and foot rest made of aluminum, the unique AC Schnitzer keyholder and the velours footmats. Along with this, the German tuner integrates a gear knob with digital gear display, illuminated leather gear knob and "Black Line" aluminium gear knob which highlight the sporty interior feel of BMW X4.
Source: AC Schnitzer