Art and High-Performance Blend in John Pangilinan's SEMA-based Sonata [VIDEO]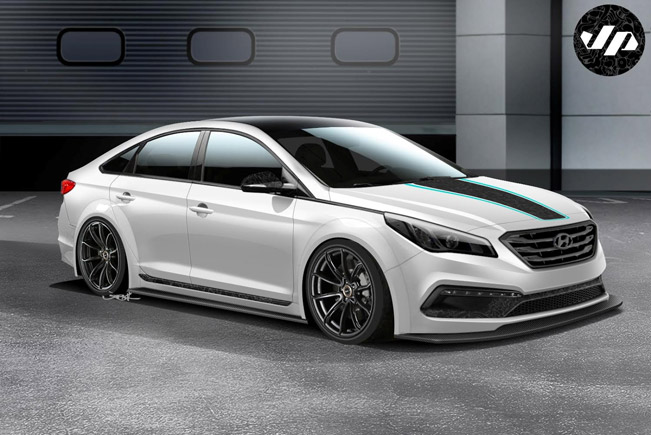 At the SEMA show we are used to see Hyundai displaying a range of exceptional custom vehicles. For this year the company is set to raise the standards even more by blending art and performance … literally. The embodiment of this philosophy is John Pangilinan's SEMA based Sonata, which strives to change the perception of what the regular sedan is by combining high performance driving dynamics with the striking visuals of Los Angeles street art.
The design vision for the JP Edition Sonata is included in details in the video below. It is called "Hyundai SEMA 2014: Meet the Builders" and it shows how it is possible to build the connection between the fashion and street art and the tons of horsepower.
JP Edition Sonata keeps the stock white paintwork as the visual base. In this way, John Pangilinan wanted to represent a blank white canvas, upon which he would create his work of art. The artist has worked together with Flexfit | BSCMP and Mr. 44 - a renowned Los Angeles-based street artist. The result is exceptional: the trio was able to create a Sonata that reflects a union between equally passionate street art and auto-enthusiast cultures.
In addition, the Sonata also got a performance boost via the added AEM cold air intake, a MagnaFlow exhaust kit and a hot charge pipe from Bisimoto engineering. The chassis has also been changed with the addition of KW coilovers.
LTMW wide body and lip kit make the JP Sonata more aggressive. The same effect is additionally strengthened with the exclusive 19 inch RAYS Gram Lights 57Getter wheels wrapped in Toyo R888 tires.
Inside, the tuning consists only in the substitution of the standard seats with Recaro cross sportster seats and the addition of BP Auto Sound with Alpine and Scosche electronics, which we definitely don't find enough for a project which is to be exhibited at SEMA.
Don't miss to check out what inspires these tuning veterans to build this Hyundai car for the SEMA show. Are they missing something and will their work be as successful as they claim? Leave your thoughts below in the comment section and stay tuned for more details around this project!
JP Hyundai Sonata Specifications:
ENGINE MODIFICATIONS:
AEM Cold Air Intake
MagnaFlow Exhaust
Bisimoto Hot Charge Pipe
CHASSIS/SUSPENSION MODIFICATIONS
Progress Sport Springs
RAYS Gram Lights 57Getter Wheels (19 x 9.5-in. Front, 19 x 10.5-in. Rear)
Toyo Tires Proxes R888 (245/40 R19 Front, 295/35 R19 Rear)
INTERIOR MODIFICATIONS
Custom Widebody and Lip Kit by LTMW
Custom Vinyl Art by Mr. 44
The Retrofit Source and Retrofit House Custom JP Edition Headlights with VLEDs
INTERIOR MODIFICATIONS
RECARO Cross Sportster Seats
Bisimoto Custom-Fabricated Seat Brackets
Katzkin Re-Upholstery Leather Seats
Alpine Electronics System built by BP Autosound
Scosche Electronics
V-LEDs Lighting
Video Source: YouTube
Source: Hyundai