Audi RS7 Piloted Driving Concept is World's Sportiest Autonomous Car [VIDEO]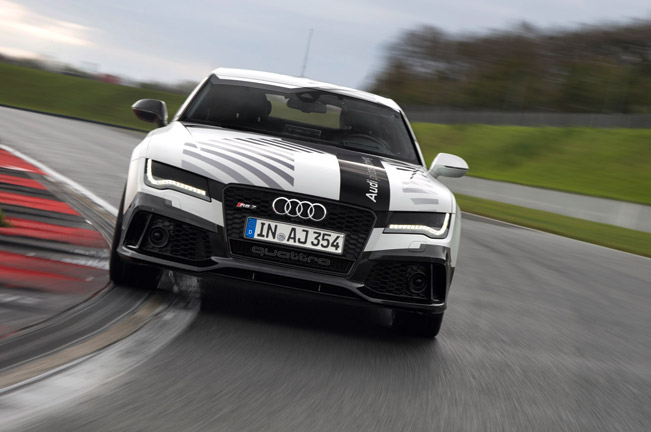 2014 Audi RS 7 Piloted Driving Concept Car is world's sportiest piloted driving car. At the German Touring Car Masters (DTM) season finale, the concept vehicle will show its dynamic potential and driving characteristics for the first time. Prior to the start the concept car will complete one lap at the Hockenheim ring without a driver. Audi also confirmed that the car is capable of covering a lap time at the race track of just over two minutes and has a lateral acceleration of up to 1.1 g.
The large, five-door coupe is looks just like the production RS 7 model, but its electromechanical power steering, the brakes, the throttle valve and the eight-speed tiptronic that distributes the power to the mechanical quattro drive system are controlled automatically.
During piloted driving, there has to be considered two primary things. The first one is the highly precise orientation of the vehicle on the road, while the second is the absolute control of the vehicle at the handling limits. How this happens? The technology platform utilizes specially corrected GPS signals for orientation on the track.
The data is very accurate and is sent to the vehicle via WLAN according to the automotive standard and redundantly via high-frequency radio. In addition, there are also 3D camera images are compared in real time against graphical information stored on board. The system searches in each of the countless individual images for several hundred known features which then uses as additional positioning information.
Vehicle's handling limits are controlled via comprehensive on-board networking. The latter is coupled with the highly precise control similar to driving, which enable the technology platform to drive at the physical limits.
The demonstration of the driving capabilities of the RS 7 piloted driving concept car will be shown at the Hockenheimring. There, forces of over 1.3 g occur during braking, and lateral acceleration in the corners can reach 1.1 g. The test at the track suggest that we can expect a top speed of over 240 km/h (149.1 mph) and a lap time of 2 minutes and 10 seconds.
Video Source: YouTube
Source: Audi