Audi Team Is Ready for World's Toughest Race at Le Mans 24-Hour

Audi Sport Team is ready for the toughest race in the world: Le Mans 24-Hours 2015. The first qualifications were on Wednesday, when Audi engineers worked on shifts for incredible amount of time from midnight to 19:00 the next day in order to complete all the tweaks and upgrades on the three Audi R18 e-tron quattro vehicles.
And there were additional qualifications on Thursday, when the team made further optimizations and tests on the machines. What engineers say is that on Thursday the conditions and preparations were considerably better than the previous day, despite the fact, that there were numerous interruptions.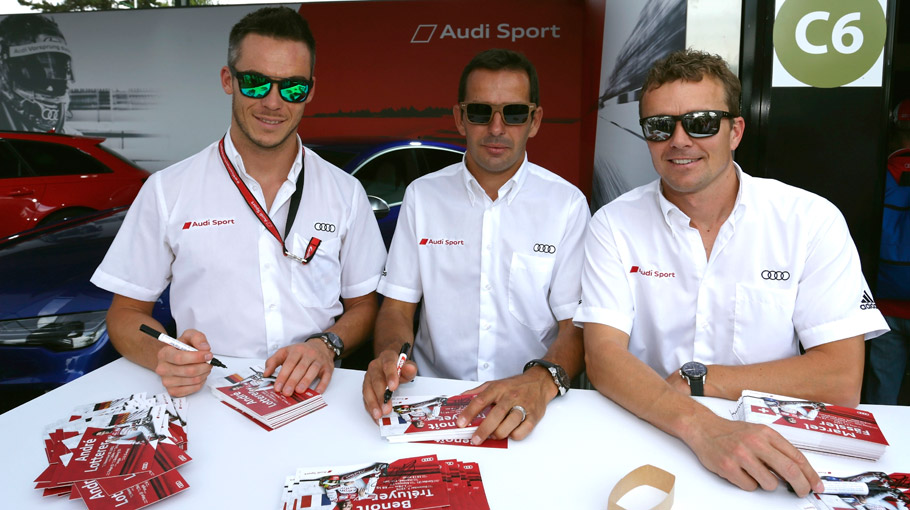 For this year's Le Mans race, Audi relies on a special efficiency technology, named Audi Ultra. Furthermore, the R18 e-tron quattro car is considered as one of the most efficient sport vehicles, thanks to the special engine and the aerodynamics. In fact, the vehicle managed to reach a speed of 340 km/h (188 mph) on the famous Hunaudières straight at Le Mans.
The three Audi R18 beasts will start the race on Saturday ahead of two Toyota vehicles and behind three Porsches. The racers behind the wheels of the R18s are Lucas di Grassi (BR), Loïc Duval (F) and Oliver Jarvis (GB), who will be on the second row with number "8", while the third row is taken by this year's winners Andre Lotterer (D), Marcel Fässler (CH) and Tréluyer (F), who will start with number "7". With number "9" will start Filipe Albuquerque (P), Marco Bonanomi (I) and René Rast (D).
SEE ALSO: Audi Brings Together All Le Mans Winner Models
In fact,  Loïc Duval set the fastest lap with the Audi team on Wednesday with an average speed of 245 km/h (136 mph), while André Lotterer moved up from sixth to fifth on Thursday. A promising start for the Audi team.
And here is the starting grid at 2015 Le Mans:
Dumas/Jani/Lieb (Porsche) 3m 16.887s
Bernhard/Webber/Hartley (Porsche) 3m 17.767s
Hülkenberg/Bamber/Tandy (Porsche) 3m18.862s
di Grassi/Duval/Jarvis (Audi R18 e-tron quattro) 3m19.866s
Fässler/Lotterer/Tréluyer (Audi R18 e-tron quattro) 3m 20.561s
Albuquerque/Bonanomi/Rast (Audi R18 e-tron quattro) 3m 20.997s
Wurz/Sarrazin/Conway (Toyota) 3m 23.543s
Davidson/Buemi/Nakajima (Toyota) 3m 23.767s
Prost/Heidfeld/Beche (Rebellion-AER) 3m 26.874s
Imperatori/Kraihamer/Abt (Rebellion-AER) 3m 28.930s
Source: Audi