Audi TT Ultra Quattro Concept [video]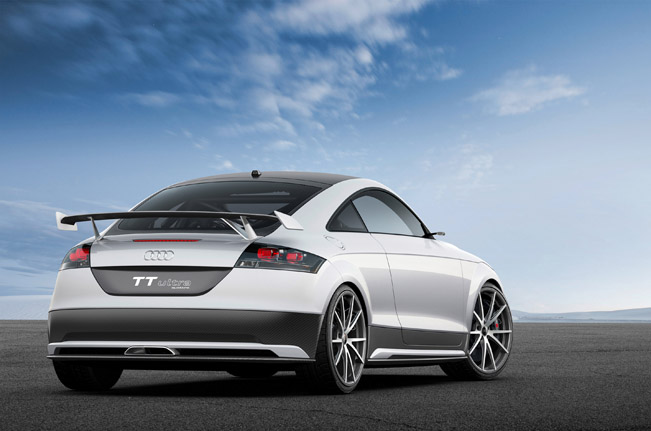 Audi has finally understood that the power is not everything and the most important thing about creating a super car is the low weight. That's why, the manufacturer created the all-new TT Ultra Quattro Concept, which will make its official debut at the 2013 Worthersee Auto Show.
The light-weight variant of TT S Quattro is only 1,111 kg (2,449 lbs), which is whopping 300 kg (661 lbs) less than the model is based on.
The power is coming from a well-known 2.0 liter TFSI engine with 310HP (228 kW) and 400Nm (295 lb-ft) of torque. This makes a power-to-weight ratio of 3.6 kg per HP. 0-100 km/h in 4.2 seconds (1.3 seconds faster and a top speed of 280 km/h (174 mph).
Some of the highlights include R8 GT-sourced bucket seats, CFRP rear-end, roof, center tunnel and B-pillars, along with magnesium floor and hinge reinforcements. There is also a rear wing from carbon fiber.
Among the extras, you will find air conditioning, electric window controls, an electromechanical parking brake as well as compact cameras in the doors. Their function is to substitute the exterior mirrors and transfer images into the digital cockpit.
Soure: Audi