Bisimoto Hyundai Elantra GT Generates 600 HP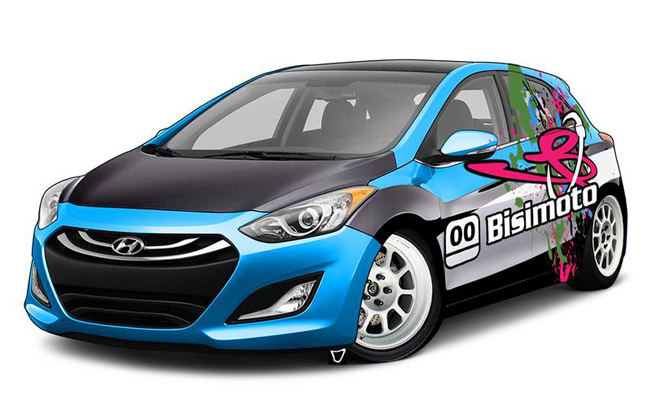 Bisimoto Hyundai Elantra GT Concept is one of the SEMA bound vehicle that the brand will display at the event. In it Bisimoto engineering has decided to give this Hyundai 600 horsepower.
They have achieved this through refined tuning, and in particular for this have contributed the following tuned features: Bisimoto-built 1.8L "NU" family Hyundai engine, Bisimoto steel rods, turbo kit, intake gasket, injectors, and web level 2.4 camshafts, Arias forged pistons, AEM Series 2 EMS, and smart IGBT coils, MSD coil wires, NGK Iridium spark plugs, PurOl Oils, Bisimoto/Turbonetics BTX6462 turbocharger, blow-off, wastegate, Spearco intercooler, Golden Eagle sleeved block, and intake manifold, Griffin Radiator, Supertech valvetrain, Vibrant Vanjen clamps and stainless hardware, AEM water-methanol kit, AEM 320lph fuel pump, ARP head, main, and wheel studs, Portflow custom headwork, VP Streetblaze 100 fuel, Kinsler fuel filters.
They have additionally made a chassis and suspension modifications, which namely are JNF roll cage, progress coilover suspension and sway bar, Buddy Club P1 Racing SF Challenge Wheels, 18x8.5 and Bisimoto-spec Action 2MS Clutch.
As you can see from the only image they have released, they Bisimoto has also included an exterior tuning: Gatorwrap custom laminated body wrap, type 2 graphics, ARK body kit, Denmatic design scheme, Bisimoto Extreme Dimensions hood and aero upgrades, Burns Stainless muffler and hardware.
A perfect SEMA-bund tuning can't go without interior modifications as well. In details what has been added here is the following: Bisimoto racing seats and harness, Bisimoto reservoir socks, Racepack IQ3 dash, AEM wideband failsafe module, Odyssey ER-25MJ dry cell battery, Rywire mil-spec harness, GJ braided lines, Rueda interior paint.
Source: Hyundai