Hyundai Elantra Coupe: Good for Surviving a Zombie Apocalypse
Comic-con is happening right now in San Diego and people are not the only ones who indulge in cospaly (short for costume play). Here's a Hyundai Elantra Coupe which stems from one of the world's favorite apocalyptic scenarios - how to protect ourselves in times of a zombie attack?
Robert Kirkman, who designed this "Zombie Survival Machine" Elantra might have the answer. He also happens to be the creator/writer of the popular franchise "The Walking Dead"... which, much to our relief, is about zombies. No need to know that however, as that front plow with spikes on it is obviously not for clearing up snow from the streets (those can be found at the nuclear winter scenario booth). Nope, this one is for dicing your way through hoards of slow-walking, brain hungry ghouls. As a good measure, the glassy bits of the car are also barred and there's a hatch on the roof in case of emergency. Powerful floodlights at the front and back are good for your awareness and rather road illegal but let's face it, how many oncoming cars will be blinded by the light in a zombie ridden Atalanta, Georgia. At the back, the trunk is supposedly full of various "electric and pneumatic weaponry". The tires are a classic with those knee-choppers sticking out of them and inside you get a CB radio system. All of that and more can be found at HyundaiUndead.com and on Sktbound.com.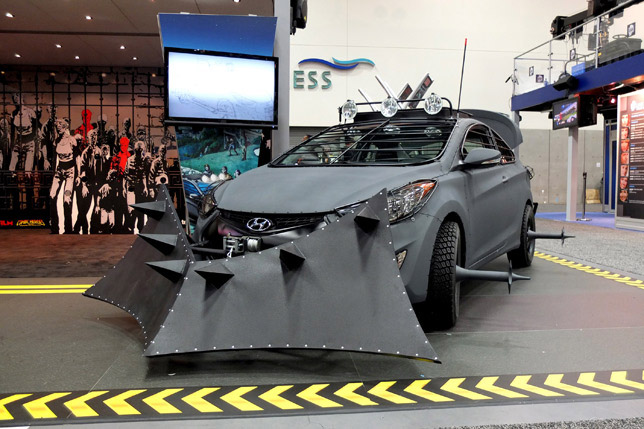 Being a Hyundai Elantra Coupe, the Zombie Survival Machine boasts 148 zhp (that's zombie horsepower) from it's 1.8-liter engine mated to a six-speed … say automatic because changing shifts and fending off clinging zombies is demanding work. On paper, it should an Elantra coupe does around 34 mpg on the combined cycle. Nor sure about this particular one though.
Another more generic looking Elantra GT also shares the spotlight as it has the cover of the 100th Walking Dead comic as its paint job. That's the whole point of the Hyundai Undead line: To celebrate the release of the 100th issue of "The Walking Dead" comic. There will be a VIP Black Carpet Event on July 13 to mark the occasion.
Source: Hyundai