BMW E92 M3 ESS VT2-700 vs: RS6 Sportmile R1K, GT-R AMS Alpha 12+,Porsche 911 Turbo and Panamera Turbo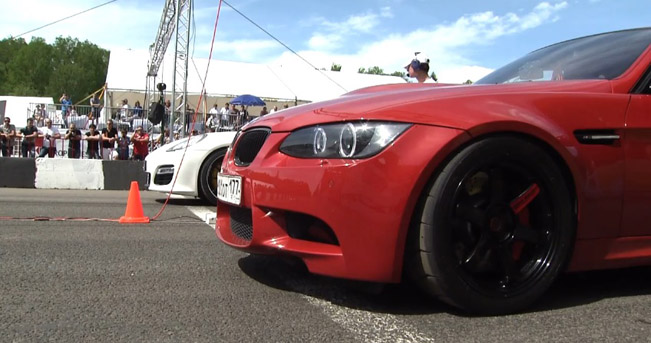 A mighty BMW E92 M3 ESS VT2-700 with 700HP made several drag starts versus Audi RS6 Sportmile R1K with 1000HP,Porsche 911 Turbo Mk.1 DT 1200 with 1200HP, Nissan GT-R AMS Alpha 12+ with 1500HP and a Porsche Panamera Turbo S Stage 1 with 700HP.
The first start is versus the Panamera, which managed to set personal absolute Record on 1 mile  and ¼ mile, but still it lost. The M3 crossed the finish line in 29.036 seconds with a terminal speed of 279.5 km/h.
The BMW won the second start, too. It is versus a 911 Turbo, which obviously had some problems. Still, the tuned M3 set personal records on ¼ mile – 11.704 seconds and 1 mile – 28.911 seconds with terminal speed of 281 km/h.
The third start was doomed, tuned RS6 has over 250HP more than the BMW. What is more, this particular Audi is the winner of 2nd place in Gran Turismo class 2013. The RS6 Sportmile R1K set absolute speed record of all-time in the class – 321 km/h; Personal absolute record – 27.016 seconds nd absolute speed record for Audi RS6.
The last start is versus one of the fastest street legal cars in the world – Nissan GT-R Mk.2 AMS Alpha 12+. It stopped the clock on 9.447 seconds with 260.11 km/h at ¼ mile; 22.538 seconds and 382.16 km/h on 1 mile. This GT-R driven by Juriy M. is winner of 1st place in Super Sport Class 2013; Winner 1st place in Top Speed Class 2013 and some other records.
Enjoy!
Source: Dragtimesinfo