BMW Team Unveils a Really Special Model

BMW decided to pay tribute to the legendary ZHP Performance package with releasing details for the latest 2016 BMW 435i ZHP Coupe Edition. As you know, the original ZHP code was created by BMW as an additional tech pack for the 2003-2006 E46 3 Series and included M-Tech II body kit, a special ZHP shifter knob and shifter, a better suspension, output of 235 hp (172 kW) and many more. And now the 435i ZHP Coupe Edition demonstrates a wonderful collaboration between stock features and many more additions, that come with BMW M Performance Accessory list. What is special about this car, is there will be only 100 units offered on the market.
SEE ALSO: BMW with more Powerful Package for the M6 Series
And as the latest BMW member, the 435i ZHP Coupe Edition will grant its buyers improved aerodynamics, even better response and precise handling. In addition, the BMW M Performance line will offer accessories, that will further boost the sporty character and bring additional performance tweaks. What BMW team promises is, every single component went through intensive process, that ensures only premium quality elements and performance.
And here we offer you what the key packs and features: BMW M Performance Limited Slip Differential, BMW Performance Parts, M Sport Package, Track Handling Pack.
 The Track Handling Package
This pack of goodies comes with 18-inch Orbit Grey V-Spoke Wheels and M Sport Brakes and Adaptive M Suspension, that includes the special Variable Sport Steering.
BMW M Performance Limited Slip Differential
This technology brings additional performance tweaks, that boost the acceleration and deceleration performance and in addition provides additional grip power to the wheels. Furthermore the Limited Slip Differential ensures better control and smoother ride.
BMW M Performance Engine Kit (+35 hp, up to +32 lb-ft)
Thanks to that Kit, the BMW monster gets additional acceleration and speed boost. With the special Air Intake system, that is incorporated into the Kit, the car now delivers additional 335 hp (35 hp additional boost)/ 246 kW (25 kW additional boost). The torque also deserved its attention as it is now with 32 ft/lb gain for the automatic transmission, which results as a total of 332 lb-ft and 317lb-ft for the automatic gearbox ( 17 lb-ft gain). This pack also reduces the 0-100 km/h (62 mph) sprint time: the car takes it now with 2 seconds faster.
BMW M Performance Exhaust
The M Performance Exhaust reduces the weight with 8.8 pounds and brings some aerodynamic tweaks, that result on a better handling and improved weight balance.
 BMW M Performance Aerodynamics Package
The 435i ZHP can be geared and with a special Aerodynamics Pack. The upgrade underlines the sporty design and lines and as the name suggests, brings numerous tweaks to the aerodynamic aspects of the car. What it brings is a rear high-quality carbon-fiber spoiler, a special diffuser and a special high quality polymer.  Furthermore, the Aerodynamic Pack brings and wonderful confident and muscular appearance.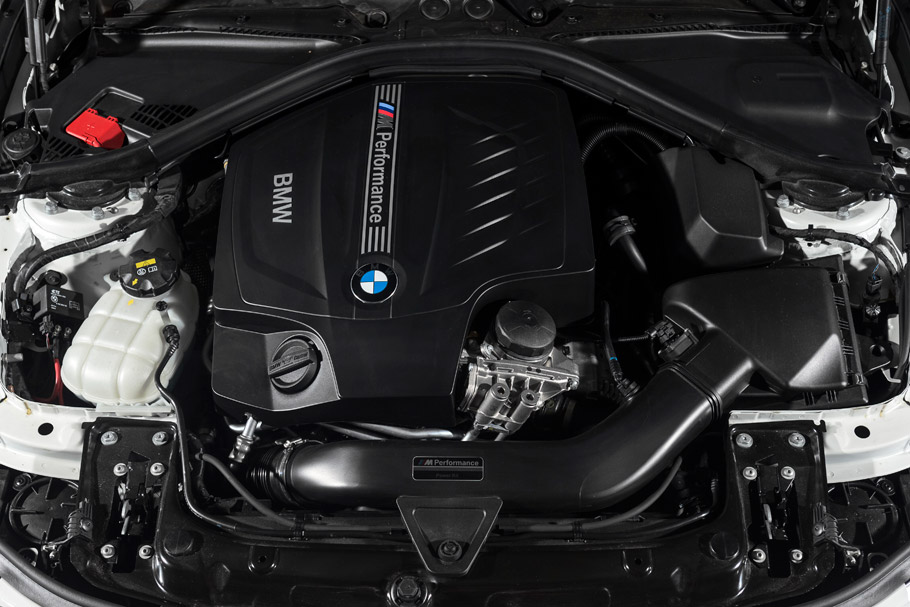 M Sport Package
The last available pack for the 435i ZHP Edition come with tweaked aerodynamics, aluminum hexagon trim, glossy accents and sport steering wheel.
And for the people, who still need additional tweaks, BMW brand offers numerous special Performance Parts via a special program, called Vehicle Distribution Center Installed Accessory.
Source: BMW