BMW X4 M40i Is Here! But What Can It Offer?

BMW X4 series goes through even higher ranks with the introduction of BMW X4 M40i. This vehicle offers even more features as standard equipment and ensures improved driving dynamics and flexibility. After all, we are talking about a BMW vehicle. So, let's check it out.
Visuals
The exterior of the X4 M40i shows the high aims of the brand. There are numerous exclusive components as the side mirrors, the exclusive 20-inch M light-alloy double-spoke wheels, sporty exhaust system with valve control and chrome Black tailpipes. And all this enhanced by BMW's elegant lines and shapes that altogether contribute to the overall stylish, yet aggressive visual affair.
SEE ALSO: Contrast is Everywhere. Including Vorsteiner BMW M3 E92
On the other hand, the interior has that typical BMW spirit. It offers special M leather steering wheel, M gear shift lever, sporty seats and special "X4 M40i" digital lettering on the instrument cluster.
Power and efficiency

The recently-developed M performance TwinPower Turbo six-cylinder unit celebrates its premiere indeed in the BMW M40i. The unit delivers a total of 360 hp (265 kW) at 5,800-6,000 rpm and provides a maximum torque level of 465 Nm. This all helps the vehicle to go from 0 to 100 km/h (62 mph)  in less than five seconds and has a top speed of 250 km/h (138 mph).  Furthermore, the whole system consumes 8,6 liters of fuel for every 100 km and its combined CO2 emissions are measured at 199 g/km.
Driving Character
The latest X4 model comes with further-enhanced driving dynamics. The stronger springs and stabilizers, along with the increased camber on the front axle and the adaptive dampers make really the car feel like it flies or floats on water. And when we add the fine-tuned characteristics of the Performance Control, this beauty's driving and handling capabilities are beyond perfect.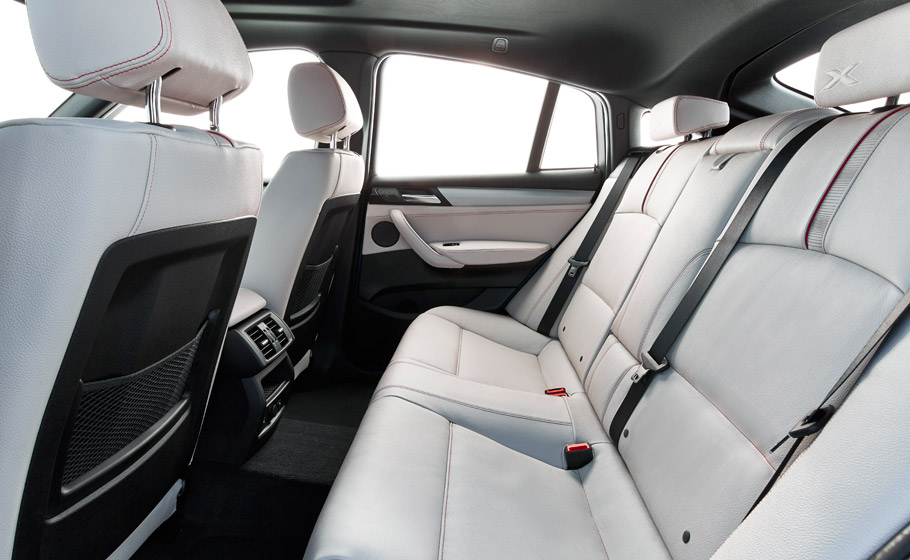 Source: BMW