British GP: Lewis Hamilton 16th
A forceful opening lap saw Lewis vault from 18th on the grid to 15th by the end of lap one. There then followed a determined tussle with Robert Kubica; Lewis briefly overtaking the Pole before being re-passed after he was forced wide onto the grass at the exit of Chapel Curve. Reporting a lack of grip, Lewis pitted from 15th position on lap 20, switched to Options and rejoined in 20th.
LEWIS HAMILTON - MP4-24-04 Started: 19th - Finished: 16th Fastest lap: 1m22.576s (18th) - Pitstops: two (Op-Op-Pr) Championship points: 9 - Championship pos: 11th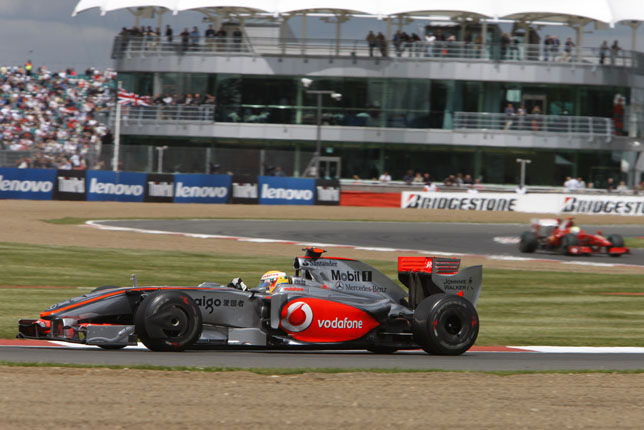 A couple of brave passes – holding out against Nick Heidfeld into Maggotts and powering past Fernando Alonso on the inside at Copse – nonetheless failed to keep him in the hunt with the midfield pack. After his second and final stop, on lap 43, the team turned down Lewis's engine and he finished 16th. "I gave it my all today," Lewis said. "Despite fighting for the lower positions, I was absolutely on the limit for the whole race. We knew it would be difficult, and I enjoyed my battle with Fernando, but we didn't have the pace today to get into the points. "The best thing about this weekend has been the fans: they really gave me some consolation by cheering me on throughout the race. I would love to have given them a result to make them happy and my country proud, but we still have a lot of work ahead of us before that will be realistic."
HEIKKI KOVALAINEN - MP4-24-02 Started: 13th - Finished: retired Fastest lap: 1m22.418s (15th) - Pitstops: two (Op-Pr-Pr) Championship points: 4 - Championship pos: 13th
Boxed out on the run through Copse, Heikki dropped from 13th to 19th by the end of the first lap and spent the majority of his race pushing to make up places. Running 19th in the opening stint behind Buemi, Heikki was fuelled until half-distance, pitting on lap 35 and switching from Option to Prime. A lap later, he was hit from behind by Sebastien Bourdais under braking for Vale corner. The rear impact punctured Heikki's left-rear tyre, and, while he pitted for a fresh set of rubber, he immediately reported that the rear-corner felt strange. The team chose to pull him into the pits and retire him for safety reasons. "Of course, it's disappointing not to finish the team's home race," Heikki said afterwards. "Until my retirement, the car had been working fine and the strategy was working for me too: we were on target. Then Bourdais just ran into the back of me and damaged the left-rear corner. I had to stop because the damage had made the car undriveable: we decided to retire for safety reasons."
MARTIN WHITMARSH Team principal, Vodafone McLaren Mercedes
"This weekend has been a very difficult one for everyone at Vodafone McLaren Mercedes. No-one in our team likes not winning, and it goes without saying that we all remain utterly determined to return to our winning ways. That may not be a realistic prospect for this season – although significant improvements are in the pipeline – but the team is doing a huge amount of work in an effort to gain a full understanding of the performance issues our car is currently facing, with a view to developing next year's car as well as improving this year's car. Sometimes you have to go backwards before you can begin going forwards – and, painful as it was for all of us, this weekend was an example of that."
NORBERT HAUG Vice-president, Mercedes-Benz Motorsport
"A race to forget. Our performance was by far not where it has to be and where it was when we won five of the last 10 races here on this classic racetrack. We should not talk a lot now but rather work a lot. Congratulations to our German friend Sebastian Vettel, Red Bull Racing and Mark Webber for a very impressive performance and a clearly very dominant one-two today. This was the most impressive performance of the season so far."