Carisma Auto Design Enhances The Interior Of Land Rover Defender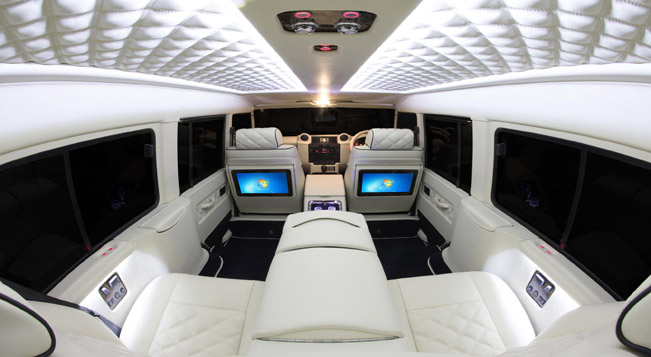 We are all familiar that Land Rover Defender is one of the most iconic vehicles in the British automotive industry, thanks to its famous off-road capability. The specialists at Carisma Auto Design have have enhanced the interior of such Land Rover, adding unrivalled luxury including exotic leather and premium materials.
At the same time, the exterior design of the car wasn't changed. The aim of this was to allow the driver and occupants to engage in outdoor activities while being in total discreet comfort.
To go further into details, this Defender's interior is enhanced with a range of exotic leather, carpet and wood. The leather used by Carisma is carefully sourced from barbed-wire free environments. This ensures pristine hide and in addition it is complemented by a real wood veneers, which are hand-built and fitted to the car.
The interior of the luxury vehicle, being the ultimate outdoor one, also includes hand-crafted bespoke gun cabinet from the finest wood, including magnificent cut-glass crystal champagne flutes and tumblers complete with separate refrigeration facilities.
There were also a range of multimedia options added. For instance, there are featured on board Windows/Apple operating system (depending on choice), Wi-Fi and Bluetooth, audio equipment from Bang & Olufsen. They provide the ultimate travelling experience and make it even more special than one can imagine.
Alongside all these features there are also to be found in the interior solid crystal ash trays and champagne flutes, integrated premium pen sets with tailored housing, customised seat embroidery, 42" televisions and refrigeration units.
Source: Carisma Auto Design